How to design user centric digital law
Hertzberg, Emma (2018)
---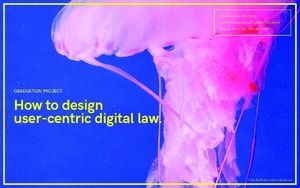 Lahden ammattikorkeakoulu
2018
All rights reserved
Julkaisun pysyvä osoite on
http://urn.fi/URN:NBN:fi:amk-201805147942
Tiivistelmä
In my thesis I will first introduce you to the reasons why I have chosen "how to design user-centric digital law" as my thesis topic. I will then introduce you to the most interesting concept of 'legal design'. What it is, who does it and why it is so important. I search answers to the question where has legal design emerged and is it in fact as new concept as we might think. I continue on to the topic of user-centeredness, and linger a moment with a question; why are designers so good at thinking user centric solutions. And what can designers offer to the field of law and to digital services.

User-centeredness in law is lot about communicating information, offering services and help in the most engaging, easy and understandable way for the user. If we want to succeed in this, we need to have the means in alliance with the end purpose. So in the next chapter of my thesis I will talk a little bit about my studies in visual thinking as a comprehensive tool. As a designer, who is leaping into a new field, it is extremely important to listen and cooperate with the professionals from that field. You can't expect to do everything on your own and either should you. Often the most valuable data a designer can offer isn't purely his or hers own. In my thesis I shortly open the possibilities and importance of a trust in teams. Shortly after that I exhibit some case examples from the field of legal design and different companies who have succeeded to digitize for the users. One of these examples is the Ministry of Justice's AIPA initiative which offers the backgrounds and the user data for my design problem.

The second half of this thesis is the design process. My design process started at Legal Design Summit and Brainfactory 2017 where I was introduced to the challenges which legal practise today is facing and the changes that are needed in courts. Second part of my design process started in the beginning of the year 2018 when I started to work on my thesis more intensively. Legal design process is at its structure very close to strategic design processes. In this thesis I efinine the problem and the users and through different stages goes from ideating and validating the ideas, all the way to the final concept and prototype done, based on my findings.

I hope my graduation project leaves you with the basic knowledge of what is 'legal design' and what can designer offer to the practice of law and in the search of legal innovations.
Kokoelmat