Does an organized after school activity program promote intrest, participation and development in sporting activities : A case study: Helsingin Jalkapalloklubi after school activity club for 7-9 year olds
Cousins, Patrick (2018)
---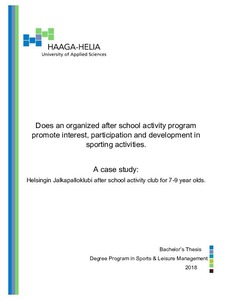 Haaga-Helia ammattikorkeakoulu
2018
All rights reserved
Julkaisun pysyvä osoite on
http://urn.fi/URN:NBN:fi:amk-2018120419950
Tiivistelmä
This study presents an overview in to the developmental aspects of children between the ages of 7-9. Children at this age are first -and second graders in elementary school in Finland. As well as children's development, the study looks in to physical education for children at a young age. The study breaks down the football organization HJK, that is based out of Helsinki, Finland. The study looks in the basic education act and gives an in-depth review of a HJK afternoon activity club(a.a.c) and how it's program can give children at a young age a foundation in to various different sports, physical activities and games.
The aim of the study is to see through research, does an organized activity program promote interest, participation and development in children who are enrolled in the HJK a.a.c program. Parents of all the children, at all nine HJK a.a.c's, were sent a questionnaire with ten questions about their child's interest towards physical activities and football, through a software called Lyyti. About how their child has developed during their time at the a.a.c. About their hobbies and physical activity in the child's free time, away from the a.a.c. The questionnaire was sent to almost 500 parents, out of which 183 parents answered the questionnaire.
The result of this study shows that the HJK a.a.c program has a positive effect on the children that are enrolled in the program. The study also shows that even though the a.a.c program is organized by a football-based organization, that this does not affect the child's interest towards other sports and physical activities. On the other hand, because the program is so diverse in physical activities and works so well in cohesion with clubs, that are organized by the school, that children have taken up hobbies of all areas of physical activity. The study shows that most children have developed in some area of physical attributes and specific sports, due to extra time spent playing these sports in addition to the time spent at the hobby itself. 97,8% of parents that answered are satisfied with the program HJK offers and the content of the program.
Due to the fact, that this study focused on sporting development and interest towards physical activities, further research on children's development could be done. Other developmental aspects could be looked at, to see how the a.a.c effects children's, for example social or intellectual development. The study could also be compared to other a.a.c's, that are not organized by a sports organization and don't have such a structured program, but rather a city playground or congregation, where there aren't as many adults per child. Could this program structure be provided by other sports organizations globally to effect children's athletic development and an early age.
Kokoelmat