Deep Learning Models for Cross-Lingual Short-Text Matching
Jansson, Patrick; Liu, Shuhua (2018)
---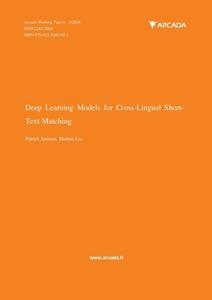 Jansson, Patrick
Liu, Shuhua
Yrkeshögskolan Arcada
2018
Julkaisun pysyvä osoite on
http://urn.fi/URN:ISBN:978-952-5260-92-2
Lähdeviite:
Jansson P., Liu S., (2018). Deep Learning Models for Cross-Lingual Short-Text Matching. , In: Arcada Working Papers, Yrkeshögskolan Arcada.
URN:ISBN:978-952-5260-92-2
Tiivistelmä
Short-text matching is a fundamental task in many important NLP applications such as question answering, machine translation and conversational assistants. The CIKM2018 AnalytiCup takes on the challenge of language adaptation issue in short-text matching and aims to promote development of advanced models for cross-lingual matching of question pairs. This article reports our participation in the challenge. We explore a number of machine learning models for question pair matching and compare their performance. Our best performing model achieved a log loss of 0.39294. The AnalytiCup winner model achieved a log loss of 0.31731.
Kokoelmat