Laboratorieundersökningar vid multipelt myelom: preanalytik, interferens och nya metoder
Lithen, Kristian (2019)
---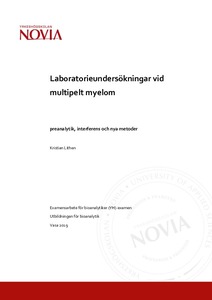 2019
All rights reserved. This publication is copyrighted. You may download, display and print it for Your own personal use. Commercial use is prohibited.
Julkaisun pysyvä osoite on
http://urn.fi/URN:NBN:fi:amk-2019120224074
Tiivistelmä
Examensarbetets syfte är att sammanställa vilka laboratorieundersökningar som görs under sjukdomsförloppet vid multipelt myelom, utreda hur M-komponenten kan interferera med undersökningarna samt utforska vilka nya metoder utvecklas relaterade till sjukdomen. Metoden som använts är systematisk litteraturöversikt. Arbetet är baserat på vetenskapliga artiklar som sökts fram genom databaser. Sökningen begränsades till artiklar från 2015 och nyare.
Laboratorieundersökningarna presenteras indelade i olika steg: undersökningar som görs vid diagnostisering, undersökningar relaterade till M-komponenten och undersökningar för uppföljningen. International Myeloma Working Group är en arbetsgrupp som har utvecklat specifika krav som måste uppfyllas för att en MM diagnos ska kunna ställas. Utifrån dessa krav fastställs laboratorieundersökningarna som görs vid diagnos. M-komponenten som är karaktäristisk för MM förekommer inte i alla fall och är därför inte längre ett direkt krav på MM-diagnos. Den är fortfarande en viktig biomarkör vid diagnos och uppföljning av MM och analyseras främst genom elektrofores och immunfixation.
M-komponenten kan med sin närvaro i unika fall interferera med laboratorieprocessen. Analyser kan t.ex. inte genomföras eller resultatet blir felaktigt. Vanligaste orsaken till detta är att M-komponenten kan orsaka ökad grumlighet i plasma/serum. M-komponenten kan också ha affinitet för en reagens som används i analysmetoden.
Användningen av monoklonala antikroppar kan i vissa fall störa uppföljningen av M-komponenten vid proteinelektrofores. I arbetet presenteras några nya metoder för att skilja de två immunglobulinerna åt och således korrekt kunna följa upp sjukdomen. Övriga metoder som presenteras är nya biomarkörer som B-cell mognadsantigen (BCMA) och förhållande mellan antalet monocyter och lymfocyter, ett förhållande man får från fullständig blodbild. BCMA verkar vara en lovande biomarkör, däremot krävs det mer forskning innan man kan dra fasta slutsatser om leukocytförhållandena som biomarkörer eftersom olika resultat har rapporterats i artiklar.
The aim of this thesis is to put together which laboratory analysis are used during the course of the disease multiple myeloma (MM), examine how the M-protein can interfere with assays and explore what new methods are being developed related to the disease. The research method used is systematic literature overview. The thesis is based on scientific articles that have been found through databases. The search was limited to articles from the year 2015 and newer.
The laboratory assays are presented in different steps: assays used for diagnosis, assays related to the M-protein and assays used during follow-up. International Myeloma Working Group is a workgroup that have developed specific criteria for MM diagnosis. The assays used for diagnosis was based on these criteria. The M-protein that is characteristic for MM is not present in all cases of the disease and the M-protein is no longer directly a criterium for MM diagnosis. However, it is still an important biomarker for diagnosis and follow-up of MM and is analysed with electrophoresis and immunofixation assay methods.
The presence of M-protein can in unique cases interfere with the laboratory process. Assays might not be able to be completed or the result could be wrong. The most common reason for this is that M-protein can increase turbidity in plasma/serum. The Mprotein can also have affinity for a reagent used in assays.
The use of monoclonal antibodies (mab) can in some cases interfere with the follow-up of MM during the assay protein electrophoresis. The thesis presents some new methods for differentiating the two immunoglobulins making correct follow-up of the disease possible. Other methods presented are new biomarkers such as B-cell maturation antigen (BCMA) and the ratio between the monocyte count and lymphocyte count, a ratio you get from the complete blood count. BCMA seems to be a promising biomarker but more research is needed before conclusions can be made about the leukocyte ratios as biomarkers because different results have been reported in articles.
Kokoelmat