Developing Inland waterways transport - Focusing scope on Saigon-Dongnai River system
Tran, Trung Kien (2019)
---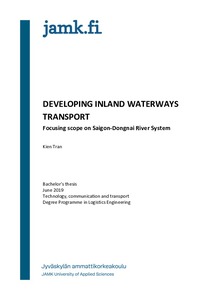 2019
All rights reserved. This publication is copyrighted. You may download, display and print it for Your own personal use. Commercial use is prohibited.
Tiivistelmä
Vietnam has many favorable geographical conditions which can be utilized to further boost the country's economic performance, such as many long rivers that have potential for developing waterways transport. Moreover, there are concerns that the inland wa- terways transport in the South is underperforming even though there are many rivers in this country's region. In this context, this study focused on the Saigon-DongNai River Sys- tem with its minor routes that contribute significantly to the economic development in the South of Vietnam.
This study was conducted with the objective of developing inland waterways transport in the Saigon-DongNai River System. In order to reach this research objective, the quali- tative research approach was applied, and the primary data was collected from in-depth interviews with five experts.
According to the results, the current performance of inland waterways transport in the Saigon-DongNai River System was not very high. The main strengths of the Saigon-Dong- Nai River System were the economic benefits compared to road transportation and the focus of the government to develop inland waterways transportation evidenced by the plan to move the Saigon River Ports to other locations. However, there were certain weaknesses that limited the development, including complex and unfavorable geograph- ical conditions in some locations, the poor connection with road transportation and in- dustrial parks. Moreover, low managerial capabilities of the local governments and the transportation companies as well as even the local people in sustaining the natural con- ditions of the surrounding inland waterways could be identified. The weaknesses also included less efficiency in the national strategic development of inland waterways and the small business scale as well as lack of professional services among the players of in- land waterways.
Based on that, several solutions were proposed, including intermodal transport, multi- modal transport, financial and funding resources, human resource development as well as facilities and infrastructure development.
Kokoelmat