De borde omhändertagit mig första gången : Kvalitativa intervjuer med barn som placerats utom hemmet
Kuhlman-Johansson, Rosita (2010)
---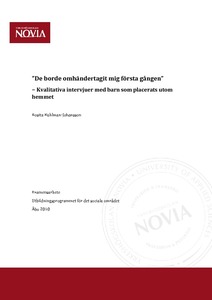 Kuhlman-Johansson, Rosita
Yrkeshögskolan Novia
2010
All rights reserved
Julkaisun pysyvä osoite on
http://urn.fi/URN:NBN:fi:amk-201104234716
Tiivistelmä
Examensarbetet inleds med en förankring i barnskyddslagen och barnets rättigheter.
Examensarbetet är en utvärdering av tio barns subjektiva upplevelse före, efter och under den tid de var placerade, vilka är mina frågeställningar.
Undersökningen är en utvärdering med halvstrukturerade intervjuer med skattningsskalan Outcome Rating Scale som grund.
Barnen fick vid intervjutillfället med egna ord berätta hur de upplevt placeringen. Undersökningen visade att beslutet att placera dem var en nödvändig åtgärd. Barnen hade reflekterat över sina liv samt hur de upplevde placeringarna i fosterhem, släktinghem och i institutionsmiljöer.
Jag har i undersökningen informerat om barnskyddslagen och barnens rättigheter. Examensarbetet belyser också barns styrka eller utsatthet, resiliens och risk med placeringar. Vilken risk utsätts barnen vid placeringar och vilken risk upplever barn om de inte blir placerade. Resiliens innebär att bemästra för barnen svårupplevda livssituationer.
Omhändertagandet av barn väcker opinion bland allmänheten. Frågorna ställs emot varandra, är det bra med en placering eller är det skadligt för barnen?
The degree thesis opens with declaring the enactment of child welfare in relation to the act of child's rights. The degree thesis is an evaluation of ten children's subjective experience before, during and after the re-placement. My frame of questions concentrates around this specific experience. This analyze is an evaluation based on semi-structured interviews where the Outcome Rating Scale- method has been used as a base.
The degree thesis also illuminates resilience and the risks of re-placements, both risks in re-placements itself as well as the risks the child experiences if it does not get re-placed. Resilience implies knowledge of mastering a situation that a child experience as severe perceived. During the interview the children expressed, in their own words, how they experienced the re-placement. The children reflected over their lives as well as how they experienced the re-placement with relatives, foster care as well as different institutions. The survey shows that the decision to re-place the children in question was a required arrangement.
The topic of child re-placement awakens different opinions among people. The public argues opinions to solve the question: is it a good resolution to re-place a child or will the child get harmed?
Kokoelmat