Affärsverksamhetsplan : för en inredningsaffär
Örthén, Isabel; Örthén, Annina (2011)
---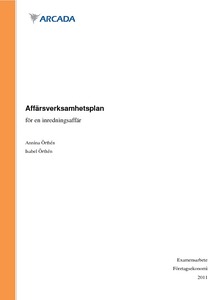 Örthén, Isabel
Örthén, Annina
Arcada - Nylands svenska yrkeshögskola
2011
All rights reserved
Julkaisun pysyvä osoite on
http://urn.fi/URN:NBN:fi:amk-2011062112362
Tiivistelmä
Syftet med detta arbete är att göra en grundlig affärsverksamhetsplan för en inredningsaffär. Problemformuleringen är att ta reda på vad man bör iaktta då man startar en egen verksamhet. Målet med detta examensarbete är också att se ifall affärsplanen är lönsam. Intresset för inredning har ökat under de senaste åren, vilket i sig har lett till att antalet inredningsaffärer har ökat. Konkurrensen på marknaden är hård och därför är det viktigt att hitta sin egen nisch. Vår affärsidé är att importera och sälja skandinaviska inredningsprodukter som är sällsynta i Helsingfors. Detta examensarbete kommer att vara till stor nytta när vi i framtiden öppnar en egen inredningsaffär.
Arbetet är indelat i två delar. Den teoretiska delen består av en affärsverksamhetsplan, medan den empiriska delen består av tre intervjuer med företagare inom inredningsbranschen. Intervjuerna jämförs först med varandra, sedan ser vi på skillnader och likheter mellan vår affärsverksamhetsplan och hur företagarna sköter sin verksamhet. Genom att jämföra vår affärsverksamhetsplan med den kunskap som vi fått från intervjuerna, kom vi till det resultatet att vi måste göra vissa ändringar i vår affärsverksamhetsplan, för att verksamheten skulle vara lönsam.
The purpose of this thesis is to make a thorough business plan for an interior design store. The goal for this thesis is to see if the business idea is profitable. We want to find out what an entrepreneur needs to think about and know when starting a business. Interest for interior design has increased in the past years, which has also increased the number of interior design stores. The competition on the market is fierce and it is therefore important to find your own niche. Our business idea is to import and sell Scandinavian interior products that are rare in Helsinki. This thesis will be useful when we open our own interior design store in the future.
This thesis is divided into two parts. The theoretical part consists of a business plan, while the empirical part consists of three interviews with entrepreneurs in the interior design industry. The interviews are first compared with each other, and then we look at the differences and similarities between our business plan and how the entrepreneurs manage their businesses. By comparing our business plan with the knowledge we gained from the interviews, we came to the conclusion that we need to make some changes in our business plan, so that our business would be profitable.
Kokoelmat