Produktreklamens inverkan på köp : Ur konsumentens synvinkel
Nemlander, Heidi; Nyberg, Carolina (2011)
---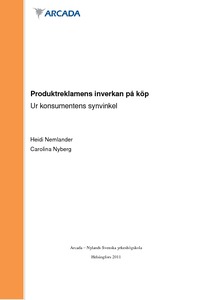 Nemlander, Heidi
Nyberg, Carolina
Arcada - Nylands svenska yrkeshögskola
2011
All rights reserved
Julkaisun pysyvä osoite on
https://urn.fi/URN:NBN:fi:amk-2011111614649
Tiivistelmä
Reklamer är ett effektivt marknadsföringssätt för företag, med hjälp av vilka de kan få fram produktens egenskaper och budskap. Vart än man går ser man reklamer, utomhus, inomhus, de finns över allt. Hur produktreklamerna inverkar på konsumentens köp är olika från människa till människa, men på ett eller annat sätt påverkas man av reklamer, medvetet eller omedvetet. Produktreklamernas sätt att framföra produkten genom olika sorts reklamer påverkar åskådaren annorlunda, därför är det viktigt att veta vilken målgrupp produktreklamen riktas till. För att reklamen skall väcka målgruppens uppmärksamhet måste man vara medveten om vilka egenskaper målguppen uppskattar så att dessa kan framställas i själva reklamen. Syftet med arbetet är att få fram vad som gör att produktreklamer i massmedierna påverkar kundens köp. För att kunna förstå detta i praktiken gjordes det en kvantitativ undersökning utgående från konsumentens synvinkel. Undersökningen gjordes i form av en enkät som publicerades bland annat på den populära sociala median, Facebook. Forskningen har avgränsats till massmedier som TV, tidningar och radio. Den teoretiska referensramen omfattar den ursprungliga AIDA-modellen ur ett marknadsföringsperspektiv och dess innebörd samt Maslows behovshierarki modell och en tidigare forskning om reklamens fördelning i massmedian. I diskussionsdelen, kopplas den teoretiska referensramen samman med resultatet som insamlades samt sammanfattas arbetet och därtill ges även förslag till framtida forskning.
Commercials are an effective way of marketing for companies, through which they can bring up a products property and let the consumer know why she needs it. Where ever you go you can see commercials, inside, outside, they are everywhere. How a product commercial affects the consumer depends from person to person, but in a way or another you will be affected, consciously or unconsciously. The product commercials way of
Presenting a product through different types of commercials affects the audience differently, that is why it is of big importance to know to which target group the commercial is aimed. For the product commercial to awaken the target groups' attention, you need to know what properties the target group will estimate, so that these properties can be produced in the commercial. The purpose of this study is to see what it is in the commercials in mass media that affects the consumers' decision to buy a product. To practically understand this it was needed to do a quantitative study based on the consumers' point of view. The research was carried out as an inquiry which was published on one of the more popular social medias today, Facebook. The study has been narrowed down only to concentrate on mass medias such as TV, magazines and radio. The theoretical reference frame covers the original AIDA-model from a marketing perspective with its content, Maslows Hierarchy of needs-model such as an earlier research in the commercials distribution in the mass media. In the discussion part of this study, the theoretical reference frame is connected to the results collected from the inquiry along with a summary of this study and proposals for possible future studies and research.
Kokoelmat