Direktmarknadsföringsverktyg för att nå företagskunder framgångsrikt : Rettig Värme Ab
Grönhage-Kronqvist, Sara (2012)
---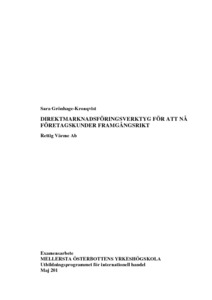 Keski-Pohjanmaan ammattikorkeakoulu
2012
All rights reserved
Julkaisun pysyvä osoite on
http://urn.fi/URN:NBN:fi:amk-201205097091
Tiivistelmä
Rettig Värme Ab i Jakobstad är en del av Rettig ICC och Rettig Group som verkar i hela Europa och internationellt. Rettig Värme Ab tillverkar radiatorer för vattenburna uppvärmningssystem, främst för den Nordiska marknaden. Årligen tillverkas 600 000 radiatorer och företaget har ca 140 anställda i Jakobstad. Varumärkena som stod i centrum för examensarbetet var Purmo och Thermopanel.
Målsättningen med detta arbete var att undersöka hur direktmarknadsföringen till två kundsegment i Sverige fungerar, vilken marknadskommunikation som är viktig i deras arbete, hur nöjda de är med den befintliga direktmarknadsföringen och vilka ageranden den ger upphov till.
I teoridelen redogjordes för olika begrepp inom direktmarknadsföring och business-to-business marknaden. Den behandlade också olika direktmarknadsföringsverktyg och kommunikationssätt som används för att nå företagskunder vid direktmarknadsföring.
Den praktiska delen bestod av en kundundersökning, en webbenkät, till VVS-installatörer och VVS-konsulter i Rettig Värme Ab:s kunddatabas i Sverige. Undersökningen bestod av fem frågor som gav svar på undersökningens målsättning.
Det framkom att marknadsföringen till VVS-installatörer och VVS-konsulter fungerar bra som den är nu, men några mindre justeringar kan göras för att försöka öka försäljningen. De personliga säljbesöken till kunderna måste bli bättre och fler, likaså utbildningen i produkterna. Det som fungerade bra som säljverktyg och uppskattades av kunderna var den tekniska informationen om produkterna och informationen på hemsidan.
Rettig Heating in Pietarsaari is a part of Rettig ICC and Rettig Group and is present throughout Europe and internationally. Rettig Heating manufactures radiators for closed waterborne heating systems, mostly for the Nordic market. In Pietarsaari, about 600 000 radiators are manufactured every year. The company has about 140 employees. The key brands that were present in this thesis are Purmo and Thermopanel.
The aim with this thesis was to study how well the direct marketing to two customer segments in Sweden is working. Which sort of marketing communication is important in their work, how satisfied they are with the present direct marketing communication and what actions the direct marketing materials generate.
In the theory part different terms associated to direct marketing and the business-to-business market were explained. It also dealt with different tools in direct marketing and methods of communication that are used to reach business customers in direct marketing.
The empirical part was a web based customer survey to HVAC-installers and HVAC-consultants from Rettig Heating's customer database in Sweden. The questionnaire contained five questions that all gave answers to the aim of this thesis.
It showed that the current direct marketing actions are working well as it is now, but a few smaller changes can be made in order to improve the sales figures. The sales visits can be improved and more frequent, as for the education of the products. What worked well as a sales tool and was appreciated by the customers were the technical information about the products and the information on the web page.
Kokoelmat