Hur kommer en ny programidé i produktion i Finland? : Försöket I know young people
Oikarinen, Mia (2013)
---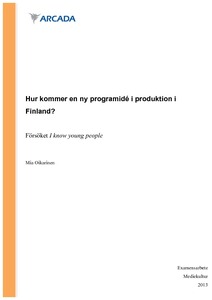 Arcada - Nylands svenska yrkeshögskola
2013
All rights reserved
Julkaisun pysyvä osoite on
https://urn.fi/URN:NBN:fi:amk-201305076791
Tiivistelmä
Mitt examensarbete består av två delar, en audiovisuell produktion och en skriftlig forskningsdel. Den audiovisuella produktionen är ett pilotavsnitt av TV-programmet I
know young people, där jag fungerade som producent och manusskribent. I min skriftliga del diskuterar jag hur en ny TV-programidé kommer i produktion i den finländska
TV-branschen. För att få svar på frågan har jag använt mig av den kvalitativa forskningsmetoden med tonvikt på intervju och intervjuat fyra proffs inom TV-branschen.Förutom mina intervjuer har jag också reflekterat kring mina erfarenheter och eventuella problem som uppstått under den tiden jag har försökt få programidén I know young people att komma i produktion i Finland. TV-branschen förändras hela tiden och man måste förstå den för att klara sig i branschen. Det har en betydelse vem du är, vad du har gjort tidigare och vem du känner i branschen, men reglerna är ändå de samma för
alla. Programidén bör vara bra, den skall passa en viss kanals profil och behov samt att förverkligandet av idén skall lyckas. Förutom att examensarbetet är nyttigt för mig och mina framtida kunskaper inom TV-branschen fungerar den också som en handbok för personer som har en programidé, men inte vet hur man skall gå tillväga för att den skall
komma i produktion.
My thesis consists of two parts, an audiovisual production and a research around the production.
The audiovisual production is a pilot of a TV-programme called I know young people, where I functioned as a producer and screenwriter. In my research, I discuss the
question how a new TV-programme idea ends up being produced in Finland. I have used the qualitative semi-structured interviews with professional people in the Finnish TVindustry
to get a deeper understanding of how the Finnish TV-industry works. Despite my interviews I have also analysed the process of trying to get the TV-programme I know young people in production in Finland. The TV-industry is under continues change and you have to understand the industry to make it. There is a difference in who you are, what you have accomplished and who you know in the industry, but basically the rules are the same for everyone: The TV-programme idea must be good, it has to fit a certain channels
profile and needs and the realization of the programme must be successfully completed. This research is not only good for myself and my future knowledge in the Finnish TVindustry,
it also works as a manual for people who have a TV-programme idea, but does not know how to go onwards with it.
Kokoelmat