När omsorgen sviktar
Bogren, Anne (2014)
---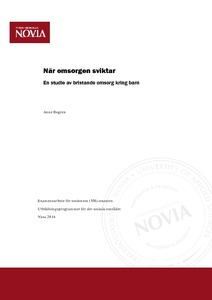 Yrkeshögskolan Novia
2014
All rights reserved
Julkaisun pysyvä osoite on
http://urn.fi/URN:NBN:fi:amk-201402122232
Tiivistelmä
Studiens syfte är att belysa barns behov och vad orsakerna kan vara till att dessa inte blir tillgodosedda av föräldrarna. I teoridelen behandlar jag ämnen som anknytning, riskgrupper och skyddsfaktorer. T.ex. har behovet av barnskyddets öppenvårdsinsatser i Finland, samt omhändertagningar av barn ökat avsevärt sedan 1990-talet, varför jag anser att ämnet känns aktuellt.
Genom en kvalitativ undersökning intervjuade jag olika yrkesgrupper som arbetar med barn och unga på olika sätt. På detta sätt fick jag flera synvinklar på mitt ämne från olika professionella yrkesutövare och det framkom att de delvis har olika perspektiv och fokuserar på olika saker i sitt arbete med barn och unga. Ett "tillräckligt gott" föräldraskap ansågs vara det viktiga och orsakerna till att det brister i omsorgen kring barnen kan var många. Dock tangerade alla respondenter på ett eller annat sätt, en upplevelse av en prioriteringskonflikt bland dagens föräldrar, eftersom det ibland uppfattades som att föräldrarnas egna behov prioriteras framom barnens.
The purpose of the study is to illuminate children´s needs and what the reason may be to why their needs are not being satisfied by their parents. In the theory section I discuss themes such as attachment, risk categories and protective factors. The need for child protection both in non-instiutional care in Finland and custody care has significantly increased since the 1990s, which is why I consider the topic to be relevant.
Through a qualitative study I interviewed various professional groups who work with children and young people in different ways. By doing this, I got different angles on the subject from different professionals and it emerged that they have partially different perspectives and focus on different matters in their work. A parenting which is "sufficient" is seen as tbe most important factor and the reason for deficiencies in parental care may be several. All respondents mentioned in one way or another an experience of conflict in prioritizing among parents nowadays, since it was perceived that the parents´ own needs are sometimes prioritized before the children´s need.
Kokoelmat