- Huom! Theseus-tuki on poissa käytöstä teknisten huoltotöiden takia 11.–15.10.2019. Ongelmatilanteessa ole yhteydessä oman ammattikorkeakoulun kirjastoon. - Theseus Support-e-post är ur användning 11.–15.10.2019. Om du har problem, vänligen kontakta ditt eget UAS-bibliotek. - Theseus Support e-mail is out of use 11.–15.10.2019. In case of problems please contact your own UAS Library.
M-Commerce Adoption in Kajaani
Berard, Gregory (2004)
---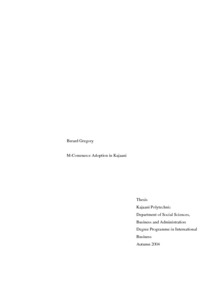 Kajaanin ammattikorkeakoulu
2004
All rights reserved
Julkaisun pysyvä osoite on
http://urn.fi/URN:NBN:fi:amk-201001271633
Tiivistelmä
The objective of this final year project was to study mobile commerce (m-commerce) adoption in the
city of Kajaani. The research includes studies of how consumers' behaviors, macro-environmental
factors and growth in the consumers' usage of mobile phones and Internet might lead to the adoption
of m-commerce. This research will primarily benefit network operators and mobile phone
manufacturers; it will allow the latter to gain insight as to how potential consumers will react towards
newer technologies. The other expected outcome derived from this study is the increase of readers'
awareness about the facts surrounding m-commerce in Finland.
The methods used to implicate the research were a desk study, surveys and an interview. The desk
study was performed using published books and articles. Reliable Internet sources such as the
government and The New York Times Internet Web sites were utilized. A survey pilot was designed
and tested to aid in assessing the suitability of the questions and measurement scales; the pilot survey
has been conducted on a pool of 20 people who have been randomly selected in the city of Kajaani.
The final draft was conducted on a pool of 50 respondents who were selected using the stratified
sampling technique. A face-to-face interview has been performed in one of the local mobile phone
retailers.
In conclusion, there is a strong demand for m-commerce in the city of Kajaani. People who belong to
the 30-34 segment of the population were the ones who were the most inclined to adopt m-commerce.
Results demonstrated that m-commerce's services with the highest appeal included e-mail, banking,
news and ticketing; these services are in alignment with what consumers are already accustomed to with
the fixed e-commerce. In spite of an overwhelming acceptance of m-commerce, there are a number of
concerns in relation to m-commerce. The most important of these seems to be related to the issues of
security. The experience with fixed e-commerce did not seem to significantly alter the effects of these
deterrents.
Because m-commerce is still in its infancy stage in Finland, further studies should be performed.
Kokoelmat