Hjärt-lungräddning – chansen att överleva : En systematisk litteraturstudie om chanserna att överleva efter ett hjärt- eller andningsstopp
Björklund, Ida; Antus, Johanna (2014)
---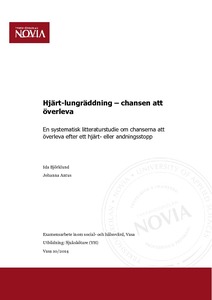 Björklund, Ida
Antus, Johanna
Yrkeshögskolan Novia
2014
All rights reserved
Julkaisun pysyvä osoite on
http://urn.fi/URN:NBN:fi:amk-2014112116208
Tiivistelmä
Syftet med denna studie är att ta reda på hur stor chansen är att en person som drabbats av ett hjärt- eller andningsstopp överlever. Det finns flera faktorer som påverkar chansen till överlevnad. Respondenterna har valt att undersöka två faktorer; tidens inverkan vid en hjärt-lungräddning och hur viktigt det är att upprätthålla sina kunskaper inom hjärt-lungräddning. Vi har valt att använda oss av tidigare forskningar för att få svar på dessa frågor. Anne Boykin och Savina Shoenhofers vårdteori som handlar om att man ska vårda patienten med tillräcklig kunskap och bemöta patienten på ett professionellt sätt fungerar som teoretisk bakgrund. Respondenterna har använt sig av litteraturstudie som datainsamlingsmetod och kvalitativ innehållsanalys som analysmetod. Artiklarna har sammanställts till en resumé som finns i slutet av arbetet.
I resultatet av denna studie framkommer det att ungefär 30 procent av de patienter som haft ett hjärtstopp och fått HLR kunde skrivas ut levande från sjukhuset med en fungerande cerebal aktivitet. Specifikt i Finland så var 33,6 % av de återupplivade patienterna ännu vid liv efter att de skrevs ut. Det framkom också att tiden tills det att en återupplivning påbörjas påverkar överlevnads chansen, samt att återupplivningskunskaperna påverkar slutresultatet.
The aim of this studie is to figure out how high the chance of survival is when a person suffers from a cardiac or a resiratory arrest. There are several factors that affects the chance of survival. The respondents have chosen to investigate two factors; How the time affects a CPR ??and how important it is to maintain knowledge of CPR. We have chosen to use previous research to answer these questions. As a theoretical background we are using Anne Boykins and Savina Shoenhofers care theory, which is about to cherish the patient with adequate knowledge and respond to the patient in a professional manner. The respondents have used literature as data collection methods and qualitative content analysis method of analysis. The articles have been summarized to a resume that one can find in the end of the studie.
In the result of this study, it appears that about 30 percent of the patients who had a cardiac arrest and received CPR could be discharged alive from the hospital with a functioning Cerebal activity. Specifically, in Finland, 33.6% of the resuscitated patients were still alive after they were discharged. It also emerged that the time until a resuscitation begins affecting survival chances, and that resuscitation skills affect the end result.
Kokoelmat