Starbucksfenomenet i Finland : Hur uppfattar och upplever finska konsumenter tillhörande generation Y och Z varumärket Starbucks?
Emtö, Anna (2014)
---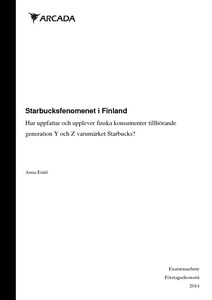 Arcada - Nylands svenska yrkeshögskola
2014
All rights reserved
Julkaisun pysyvä osoite on
http://urn.fi/URN:NBN:fi:amk-2014121620075
Tiivistelmä
I den här undersökningen har jag undersökt hur finska konsumenter uppfattar och upplever varumärket Starbucks. Jag har utfört undersökningen genom att använda mig av fokusgruppintervjuer. Intervjuerna utfördes på basen av min frågeguide som utvecklats kring de relevanta teoriområden som är presenterade i arbetet. Mitt urval för intervjuerna var finska konsumenter tillhörande generationerna Y och Z i och med att dessa vuxit upp med varumärket samt upplevt inflytandet av sociala medier i vardagslivet. Mitt syfte med undersökningen var att undersöka det så kallade "Starbucksfenomenet", det vill säga lyfta fram de underliggande faktorer som påverkar konsumenter val av Starbucks över andra kaféer. Det som uppkom under intervjuerna är att det finns faktorer som påverkar konsumenters beslut att besöka Starbucks. Varumärket i sig representerar för många något annat än enbart kaffe och att det är många av dess besökare som köper sitt kaffe från Starbucks för att den representerar en viss livsstil, kultur, personlighet eller helt enkelt ger en viss känsla. För vissa påverkas även detta beslut av att kunna ladda upp bilder av ens besök på sociala medier. Varumärket Starbucks har haft en mer betydande roll för generation Y än för generation Z. För Y-generationen har varumärket uppnått en viss nivå av fenomenstatus medan för generation Z har den inte lyckats uppnå samma emotionella koppling eller fenomenstatus.
In this study I examined how Finnish consumers perceive and experience the brand Starbucks. I conducted the study using focus group interviews. The interviews were conducted on the basis of my questions guide developed around relevant theoretical areas that are presented in this work. For my selection I chose Finnish consumers belonging to generations Y and Z. These generations have grown up with the brand and experienced the influence of social media in everyday life. My purpose of this study was to investigate the so called "Starbucks phenomenon ". Examining and highlighting underlying factors that influence consumer's choice of Starbucks over other cafés. The results from the interviews revealed that there are other factors than coffee that influence consumers' decision to visit Starbucks. The brand itself represents for many something more beyond coffee. For many people the reason for buying coffee from Starbucks is because it represents a certain lifestyle, culture, personality, or that it evokes certain feelings. For some the decision to visit Starbucks is also to post a picture of one's visit on social media. The Starbucks brand has had a more significant role for generation Y and has managed to achieve a certain level of phenomena status for this generation. However for the Z generation it has not managed to achieve the same emotional connection or phenomena status.
Kokoelmat