Proceedings of the METNET Seminar 2011 in Aarhus : held at Aarhus University on 12 – 13 October 2011
Virdi, Kuldeep; Tenhunen, Lauri (2011)
---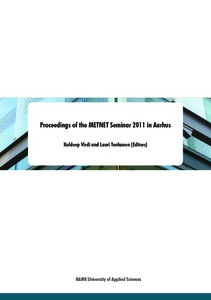 Virdi, Kuldeep
Tenhunen, Lauri
Editoija
Kuldeep Virdi, Lauri Tenhunen
HAMK University of Applied Sciences
2011
Julkaisun pysyvä osoite on
http://urn.fi/URN:ISBN:978-951-784-555-5
Lähdeviite:
Virdi K., Tenhunen L., (2011). Proceedings of the METNET Seminar 2011 in Aarhus : held at Aarhus University on 12 – 13 October 2011. Kuldeep Virdi L. (Ed)., In: HAMKin julkaisuja 8/2011, HAMK University of Applied Sciences.
URN:ISBN:978-951-784-555-5
Tiivistelmä
Notice of retraction, November 27, 2017

HAMK wants to notify readers of a retraction of the article Sustainability - need for a new approach in the architecture by Olli Ilveskoski, published in Proceedings of the METNET Seminar 2011 in Aarhus. This article has been investigated according to the guidelines of The Finnish Advisory Board on Research Integrity, with the conclusion that the article includes plagiarism. This is unacceptable, and we therefore retract this article from the literature, watermark the electronic version and advice against the use of this material.
------------------------------------------------------------------------------------------------

Thin-walled cold-formed steel performance is influenced by the presence of imperfections, which could be of geometric or mechanical type, the local or sectional instability, the
global instability and the interaction of these two instability modes. In the case of perforated section, these factors are supplemented by the presence of perforations,
which in some way, can be regarded also as imperfections. Due to the wide variety in the size and configuration of perforations, it is impossible to provide a unified practical
design procedure to calculate the ultimate strength of perforated sections. Generally, the design codes do not contain specific analytical methods for these sections, but for a design assisted by testing. This is the case of European Norm, EN1993-1-3 and Australian and New Zeeland standard AS/NZS4600:2005. In contrast, the North American Specification
(AISI:2004) provides specific recommendations for perforated sections, but they have got some limitations regarding the size and shape of perforations and the distance between
them (e.g. hole diameter and pitch).
In the case of storage racking there are specific design rules and standards, such as Recommendations of the Federation Europeenne de la Manutention (FEM 10.2.02, replaced in 2009 by the EN15512:2009 standard), Australian Standard (AS4048:1993)
and Specification for the Design, Testing and Utilisation of Industrial Steel Storage Racks by the Rack Manufacturers Institute (MH16.1:2008). All these codes, recommend
experimental tests to evaluate the ultimate strength of rack members. However, testing is costly and time consuming, and, if available, simplified design approaches would be
preferred. Nowadays, numerical procedures like Finite Element Methods, Finite Strip Method or Generalised Beam Theory have been successfully used to predict behaviour of perforated sections. However, the numerical models need to be calibrated by relevant tests.
The present paper proposes, after discussing the interactive buckling phenomena, a calculation procedure to design perforated sections. This approach applies the ECBL
method to clibate a specific imperfection factor for the European buckling curves.
Kokoelmat