Tvång inom Psykiatrin : en systematisk litteraturstudie om patienternas upplevelse av vården
Ek, Robin (2015)
---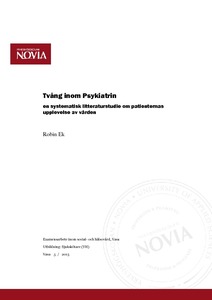 Yrkeshögskolan Novia
2015
All rights reserved
Julkaisun pysyvä osoite on
http://urn.fi/URN:NBN:fi:amk-201505076527
Tiivistelmä
Syftet med denna studie är att ta reda på patientens upplevelse av tvång inom psykiatrin. Den teoretiska utgångspunkt som valdes är Erikssons(1994) teori om lidandet och Peplaus (1952) teori om relation vårdare-patient. Respondenten har använt sig av systematisk litteraturstudie som datainsamlingsmetod och kvalitativ innehållsanalys som analysmetod. I slutet av arbetet finns en resumé sammaställt av artiklarna.
I resultatet av denna studie framkom tre teman som är kommunikation och närvaro, delaktighet i vården och människovärde. Resultatet i studien visar att patienterna inom psykiatrin är missnöjda med information som de får i vården. Genom att inte få vara med och delta blir de kränkta och känner sig utelämnade. En god relation mellan vårdare – patient är på så sätt ett viktigt moment inom den psykiatriska vården.
The aim of this study is to determine the patients experience of force in psychiatry care. As a theoretical background, Kati Erikssons' (1991) theory of suffering and Hildegard Peplaus' theory of nursing-patient relationships were used. The respondent has been using a systematic literature study as a data collection method and a qualitative content method of analysis. At the end of the paper you will find a summary of the articles that were used in the study.
In the result, three themes emerged which are communication and presence, participation in the care and human dignity. The results show that the patients in psychiatric care are dissatisfied with the information they receive about the care. By not being a part of the care they feel violated and left out. A good nurse-patient relationship is an important part of the psychiatric care.
Kokoelmat