Från delamning till helamning : En litteraturstudie om hur barnmorskor kan handleda och stödja mödrar till lyckad amning.
Öhman, Linda; Hahka, Heidi (2015)
---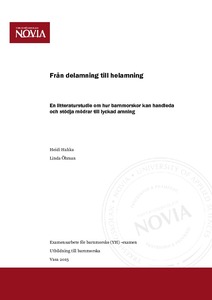 Öhman, Linda
Hahka, Heidi
Yrkeshögskolan Novia
2015
All rights reserved
Julkaisun pysyvä osoite on
http://urn.fi/URN:NBN:fi:amk-2015111916909
Tiivistelmä
Abstrakt
Syftet med detta examensarbete är att genom en kvalitativ litteraturstudie beskriva vikten av barnmorskans stöd och handledning till modern för att lyckas med amningen. Utgående från syftet har dessa frågeställningar bildats: Hur kan vi som barnmorskor stödja och informera modern för att öka amningen? Med hjälp av vilka metoder kan modern övergå från delamning till helamning?
I den teoretiska utgångspunkten har respondenterna valt att utgå från Erikssons (2000) teori om lära samt Kings (1981) teori om interaktion. Datainsamlingen består av 20 vetenskapliga artiklar. Därefter har en översiktsartikel gjorts av de valda artiklarna för att de ska vara lättöverskådliga (bilaga 1). Respondenterna har analyserat materialet med hjälp av kvalitativ innehållsanalys.
I resultatet fick respondenterna fram att nyblivna mödrar önskar barnmorskor som är uppmuntrande, förstående och villiga att hjälpa med amningen. Partnerns stöd var också av stor betydelse för lyckad amning. I resultatet framkom även att planerad amning samt närhet mellan mor och barn är viktiga faktorer för att lyckas med amningen. Barnmorskan bör ge ett bra stöd och bra information för att modern ska kunna känna sig självsäker och trygg med amningen.
Abstract
The purpose of this study is to through a qualitative literature review describe the importance of the midwife's support and guidance to the mother in order to succeed with breastfeeding. Based on the purpose, these issues were formed: How can we as midwifes support and inform the mother to increase breastfeeding? Using which methods can the mother go from partial breastfeeding to exclusive breastfeeding?
In the theoretical framework, the respondents chose to use Eriksson's (2000) theory of learning and King's (1981) theory of interaction. The data collection consists of 20 scientific articles. Thereafter, a review article was made using the selected articles in order to make them easy to grasp (appendice 1). The respondents have analyzed the material using qualitative content analysis.
In the result, the respondents obtained that new mothers wish to have encouraging, understanding and helpful midwifes. The partner's support was also of great importance for successful breastfeeding. The results also showed, among other things, that planned breastfeeding and closeness between mother and child are important factors for the success of breastfeeding. The midwife should be supportive and inform the mother well, so that the mother can feel confident and safe with her breastfeeding.
Kokoelmat