The sharing tourism: issues, motivations and challenges of a "new" way of travelling, for all and by all
Rolland, Noémie (2014)
---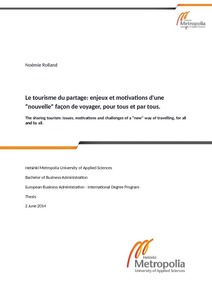 Metropolia Ammattikorkeakoulu
2014
All rights reserved
Julkaisun pysyvä osoite on
http://urn.fi/URN:NBN:fi:amk-201504285251
Tiivistelmä
For several years the reflections about the development of world economy, the management and wealth distribution of resources, the balance between the North and the South, have grown. In parallel, the tourism industry, a key sector for the international scale, knows transformations due to changes in the habit of travelling. Through the analysis of the success factors of an alternative branch of tourism, which tries to recreate relations more balanced between the travelers and the local populations, could we strengthen its place on the market and accelerate its expansion? Would it then be possible to answer these prerogatives through another form of economic and social development, like shared tourism? Is this visible trend really a tendency, or does it mark the beginning of a new type of tourism?
This report presents an analysis based on the motivations and the diverse interests of an alternative tourism, contrasting with the traditional tourism, which gives priority to real interactions and sharing between each individual of the tourism activity. This tourism comes under various names as collaborative, participative or community tourism. It is a desire that intensely insinuates itself in the mind of consumers in search of something different or new. We suggest identifying determiners susceptible to engender central skills based on "innovative" tourist practices valuing the human being and interactions. We will look into the different possibilities offered by the initiatives around shared tourism promoting solutions to mass tourism, using exchanges and sharing for a globalized cooperation. Furthermore, it is important to see the possibilities offered in the tourist sector which integrates the sustainable, united and fair stakes into their policy and connects these to its activity. This report focuses firstly on literary research and case studies, and also utilizes online information that analyzes the forms of tourism, to confirm the emitted hypotheses.
The objective of this report is to bring light to the emergent and alternative forms of tourism based on the principles of sharing and exchanges, and opening indirectly and sometimes directly to sustainable development solutions, thanks to individual accountability in the visited places. Then, the goal is to analyze the grounds for its success and its evolution in the coming years through the weak points, which play a role in the expansion of a new way of travelling.
Depuis plusieurs années les réflexions autour du développement de l'économie mondiale, de la gestion et répartition des richesses et ressources, de l'équilibre entre le Nord et le Sud, se multiplient. En parallèle, le tourisme, secteur clé à l'échelle internationale, connaît des mutations due à un changement dans les habitudes de voyage. A travers l'analyse des raisons de succès actuelles d'une branche alternative du tourisme qui cherche à recréer des relations plus quilibrées entre les voyageurs et les populations rencontrées, pourraiton consolider sa place sur le marché et accélérer ainsi son expansion ? Seraitil alors possible de répondre à ces prérogatives à travers d'autre formes de éveloppement économique et social, comme celui du tourisme de partage? Cette apparente tendance n'en estelle vraiment qu'une, ou marquetelle les prémices d'une nouvelle ère de l'industrie touristique?
Ce mémoire présente une analyse basée sur les motivations et intérêts divers autour d'un tourisme alternatif, par contraste au tourisme traditionnel, ayant pour démarche de favoriser l'échange et le partage entre chaque personne dans 'activité touristique. Ce tourisme se déclinent sous différentes dénominations que sont le collaboratif, le participatif et le communautaire. Une volonté qui s'insinue plus intensément dans l'esprit des consommateurs en recherche 'ailleurs et autrement. Nous proposons d'identifier les déterminants susceptibles d'engendrer des compétences centrales fondées sur des pratiques touristiques "différentes" valorisant l'humain et la rencontre. Nous nous pencherons sur les possibilités offertes par les initiatives autour du tourisme de partage promouvant des solutions au tourisme de masse, par le biais de l'échange et de la rencontre pour une coopération globalisée. De plus, il est important de voir les possibilités offertes dans le secteur touristique intégrant dans leur politique les enjeux durable, solidaire et équitable liés à son activité. Ce mémoire s'axe tout d'abord sur des ouvrages littéraires et des études de cas, mais elle s'appuie également sur l'actualité en ligne formant la base des formes de tourisme étudiés, afin de confirmer les hypothèses émises.
L'objectif de ce mémoire est de mettre en lumière les formes de tourisme émergentes et alternatives basées sur les principes du partage et de l'échange, et ouvrant indirectement, et parfois directement, la voix à des solutions de développement durable, par la responsabilisation individuelle, dans les lieux visités. Puis d'analyser les raisons de leur succès et leur évolution probable dans les années à venir au travers des signaux faibles de ce secteur qui ont leur rôle à jouer dans l'expansion d'un nouveau mode de voyage.
Samankaltainen aineisto
Näytetään aineisto, joilla on samankaltaisia nimekkeitä, tekijöitä tai asiasanoja.
Häätylä, Anssi-Petteri

;

Pistokoski, Pyry

(

Rovaniemen ammattikorkeakouluLapin ammattikorkeakoulu

,

2013

)

Tämän opinnäytetyön tarkoituksena on kartoittaa Tervolan matkailun nykytilaa. Tavoitteena on saada todenmukainen kuva Tervolan matkailijasegmenteistä, matkailupalveluista ja matkailijoiden viipymästä. Työssä otetaan huomioon ...

Varhela, Angela

(

Laurea-ammattikorkeakoulu

,

2013

)

The main aim of the thesis is to reflect the current status of Tourism development in Rwanda post war, familiarized with sustainable local development and sustainable economic development and how the tourism can play a ...

Algueró Durany, Mariona

(

Centria ammattikorkeakoulu (Keski-Pohjanmaan ammattikorkeakoulu)

,

2012

)

This thesis titled 'New life styles, new barriers to break down. Rainbow family tourism; service description and analysis', was written to offer the opportunity to get to know one of the latest services in the tourism ...