Excuse me! Was it 7,559 or 759? : Memory strategies in sign language interpreting
Dohm, Charlotte (2015)
---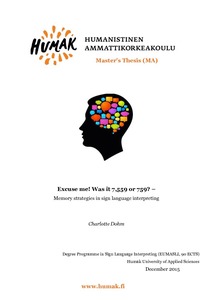 Humanistinen ammattikorkeakoulu
2015
All rights reserved
Julkaisun pysyvä osoite on
https://urn.fi/URN:NBN:fi:amk-201604224829
Tiivistelmä
Sign language interpreting often occurs in a simultaneous mode, which requires interpreters to retain some information while processing other information, thus it is a complex cognitive activity that involves a heavy cognitive load. Numbers and names have been suggested as being some of the most challenging items to retain and recall during the interpreter's time lag and have therefore been chosen as the focus of this study by asking the following research question:

How do sign language interpreters describe retention and recall strategies during simultaneous interpreting of numbers and proper names?

This qualitative study consists of a retrospective semi-structured interview with 8 Danish sign language interpreters, conducted immediately after interpreting a source text containing a high amount of numbers and proper names. The interpreters are all trained sign language interpreters and have a minimum of 8 years experience working as full time interpreters.

By analysing the results several commonalities and patterns arise from the responds. Factors that influence the ability and the necessity to retain information seem to be dependent on length of the time lag, the ability to contextualise the information, attention, and effort. Phonological and visual recall strategies are efficient tools used by the participants in order to retain and recall the item correct.

It is important to be aware of the inherent limitations of reaching a full and correct result from this empirical study. This particularly relates to the fact that the participants are asked to consider how they think they recall the to-be-remembered items, which by its very nature adds an element of uncertainty to the resulting findings. However, the answers gathered indicate signs of patterns concerning methods and strategies to retaining and recalling, in this case, numbers and proper names in particular, which indicates that further investigations into the field is necessary. Investigating how interpreters approach the interpreting process may enable us to train interpreters and interpreter students in enhancing their cognitive abilities.
Kokoelmat