A Case Study of Entrepreneurial Ecosystem Related to Growth Firms
Sorama, Kirsti; Joensuu-Salo, Sanna (2016)
---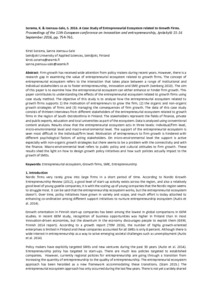 Sorama, Kirsti
Joensuu-Salo, Sanna
Editoija
Aaltio, Iiris
Tunkkari-Eskelinen, Minna
ACPI, Academic Conferences and Publishing International
2016
Julkaisun pysyvä osoite on
http://urn.fi/URN:ISBN:978-1-911218-08-1
Lähdeviite:
Sorama K., Joensuu-Salo S., (2016). A Case Study of Entrepreneurial Ecosystem Related to Growth Firms. Aaltio I., Tunkkari-Eskelinen M. (Eds.).,
Proceedings of the 11th European conference on innovation and entrepreneurship (ECIE), Jyväskylä 15-16 September 2016
., ACPI, Academic Conferences and Publishing International.
URN:ISBN:978-1-911218-08-1
Tiivistelmä
Firm growth has received wide attention from policy makers during recent years. However, there is a research gap in examining the value of entrepreneurial ecosystem related to growth firms. The concept of entrepreneurial ecosystem refers to the interaction that takes place between a range of institutional and individual stakeholders so as to foster entrepreneurship, innovation and SME growth (Isenberg 2010). The aim of this paper is to examine how the entrepreneurial ecosystem can either enhance or hinder firm growth. This paper contributes to understanding the effects of the entrepreneurial ecosystem related to growth firms using case study method. The objective of this study is to analyse how the entrepreneurial ecosystem related to growth firms supports 1) the motivation of entrepreneurs to grow the firm, (2) the organic and non-organic growth strategies of firms and (3) managing the consequences of firm growth. The data of this case study consists of thirteen interviews from different stakeholders of the entrepreneurial ecosystem related to growth firms in the region of South Ostrobothnia in Finland. The stakeholders represent the fields of finance, private and public experts, education and local universities as part of the ecosystem. Data is analysed using conventional content analysis. Results show that the entrepreneurial ecosystem acts in three levels: individual/firm level, micro-environmental level and macro-environmental level. The support of the entrepreneurial ecosystem is seen most difficult in the individual/firm level. Motivation of entrepreneurs to firm growth is hindered with different psychological factors of acting stakeholders. On micro-environmental level the support is active especially with non-organic growth strategies but there seems to be a problem with the connectivity and with the finance. Macro-environmental level refers to public policy and cultural attitudes to firm growth. These results shed the light on how to design growth policy initiatives and how such policies actually impact to the growth of SMEs.
Kokoelmat