Huom! Theseus-tuen yhteydenotto on poissa käytöstä teknisten huoltotöiden takia 11.–15.10.2019. Ongelmatilanteessa ota yhteyttä oman ammattikorkeakoulun kirjastoon. Attention! Theseus Support e-mail is out of use 11.–15.10.2019. In case of problems please contact your own UAS Library. OBS! Theseus Support e-post är ur användning 11.–15.10.2019. Om du har problem, vänligen kontakta ditt eget UAS-bibliotek.
Effektivering genom digitalisering : en utredning om behovet av en fältapplikation inom Ålands polismyndighet
Pellas, Oskar (2017)
---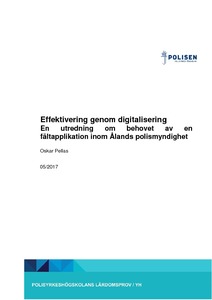 Poliisiammattikorkeakoulu
2017
Julkaisun pysyvä osoite on
http://urn.fi/URN:NBN:fi:amk-2017060813008
Tiivistelmä
Baserat på forskning om design och användning, samt informationssystem och dess kriterier för god användbarhet avhandlar denna uppsats ett förslag om en polisapplikation för smarttelefoner. Förslaget bygger på att applikationen ska användas vid Ålands polismyndighet som en kunskapsbank för den enskilde polisen. Som grund till förslaget ligger även en enkätundersökning som utfördes vid Ålands polismyndighet, där polispersonal fick svara på frågor gällande vilket material applikationen ska innehålla. Förutom den vetenskapliga uppsatsen har ett skilt produktdokument skapats, där innehållet är baserat på respondenternas svar. Enkätundersökningens huvudsakliga resultat resulterade i sex olika huvudkategorier, och trettiosju olika underkategorier för produktförslaget.
Hantering av information inom den offentliga sektorn på Åland kan anses vara föråldrad. Det påverkar Ålands polismyndighets verksamhet negativt på flera sätt. Där kan bland annat nämnas sökande av information, och att kunna säkerställa att informationen den enskilde polisen tillhandahålls är den senast uppdaterade. Detta gäller särskilt ifråga om åländsk lagstiftning. På basis av svaren som erhölls från enkätundersökningen påvisas ett reellt behov av att den information polisen använder dagligen bör vara samlad på samma plats, där man samtidigt på ett enkelt sätt kan söka efter den.
Based on research on design and usage, as well as information systems and their usefulness criteria, this paper deals with a proposal for a mobile smartphone application for police officers working in the Aland Islands. The proposal is based on the usage of the mobile application by the police in the Aland Islands as a knowledge bank for the individual constable. As a basis for the proposal, there is also a questionnaire survey conducted at the police station in the Aland Islands, where police staff responded to questions regarding what material the mobile application should contain. In addition to the scientific essay, a separate product document has been created, with content based on the respondents' responses. The survey results resulted in six main categories; and thirty seven different sub categories for the product proposal.
Handling of public sector information in the Aland Islands can be considered outdated. This has a negative impact on the Alands Islands police authority's activities in several ways, for example searching for information; and to ensure that the information provided to the individual constable is up to date. This is especially true when it comes to matters of legislation. Based on the responses received from the survey, there is a real need for daily used information to be gathered in the same place, while simultaneously being able to search for it.
Kokoelmat