Polisens brottsförebyggande verksamhet på mindre orter : betydelsen med närpolisens arbete och placering av resurser
Ulriksson, Simon (2017)
---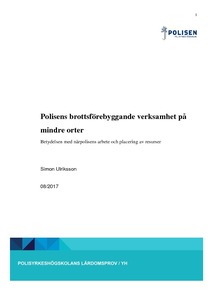 Poliisiammattikorkeakoulu
2017
All rights reserved
Julkaisun pysyvä osoite on
http://urn.fi/URN:NBN:fi:amk-2017090814916
Tiivistelmä
Denna undersökning behandlar de strategiska riktlinjerna för polisens brottsförebyggande verksamhet samt hur dessa riktlinjer kan assistera inom närpolisverksamheten. Arbetet innefattar ett bypolisförsök som påbörjats under 2015 i kommunerna Pargas och Kimito.
De modeller som använts för denna typ av arbete baserar sig på bypolisernas arbetssätt på 1970-talet då denna arbetsform utgjorde en större del av polisens dagliga verksamhet. I undersökningen har dessa arbetssätt analyserats samt jämförts med de nya strategiska riktlinjerna för att få en överblick över hur arbetet fortlöper inom Pargas och Kimito och om det följer beprövade strategier för att uppnå ett eftersträvat resultat.
I undersökningen har en kommissarie jobbande på Pargas polisstation intervjuats samt har en rapport skriven av en äldre konstapel som jobbande som bypolis under 2015-2016 har analyserats för att kunna hitta likheter eller eventuella skillnader.
Resultatet av undersökningen var att de generella strategierna för brottsförebyggande verksamhet samt för närpolisverksamhet har tagits i beaktande i Pargas och Kimito och de initiala målen med bypolisförsöket har delvis uppnåtts. En problematik har dock belysts av den största delen av informanterna i denna undersökning. Den ökande resursbristen inom polisorganisationen har omöjliggjort en fullständig satsning på bypolisförsöken och ett bättre resultat skulle möjligen kunna uppnås med mera fältarbetande personal.
This thesis covers the strategic guidelines in crime-preventing strategies and the use of these guidelines concerning community policing. The thesis also focuses on a new police-project taking place in the small cities of Parainen and Kemiö: A project in the form of so called village-policing.
The models used for this kind of police work has been rapidly updated since its peak in the 1970s when village-policing was a big part of the daily police work in the whole of Finland. In this thesis, these models have been compared to the strategic guidelines and analyzed in order to find out if they have been taken into consideration in planning of the community policing taking place in Parainen and Kemiö and if the initial aims have been achieved.
An interview with a superintendent working in Parainen police station have been held and analyzed. A report written by a senior constable previously working in the community policing project in Parainen has been analyzed in order to find possible agreements or disagreements.
The result of the thesis was that the general guidelines for crime preventing has been taken into concideration to a great extent in the projects in Parainen and Kemiö but some problems have been revealed. The insufficient recourses have caused problems in fulfilling the potential of the village-policing and therefore could the results be better if more field-working policemen would be available.
Kokoelmat