Aspekter gällande utlänningsärenden och -övervakning - en kvalitativ fenomenografisk studie, baserad på polisutbildningarna i Finland, Sverige och Norge
Enlund, Ida (2018)
---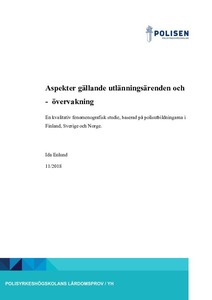 Poliisiammattikorkeakoulu
2018
Julkaisun pysyvä osoite on
http://urn.fi/URN:NBN:fi:amk-2018120520253
Tiivistelmä
Detta lärdomsprov är gjort för att reda ut om studerande på Polisutbildningarna i Finland, Sverige och Norge fått tillräckligt med utbildning beträffande utlänningsärenden och -övervakning, och om den studerande själv upplever att den har tillräckliga kunskaper för att klara av att sköta sådana uppgifter i praktiken.
Detta lärdomsarbete stöder ett mera omfattande Nordplus forskningsprojekt som görs av forskningsavdelningen för Polisyrkeshögskolan i Finland. Tanken är att försöka likrikta polisutbilningarna i Norden i frågan om utlänningsövervakning genom ett Nordcop sammarbete mellan Finland, Sverige och Norge. Arbetet är ett samarbete mellan de nordiska länderna, där jag jämfört de olika ländernas utbildningsplaner och utbildningens struktur beträffande dessa ärenden, för att hitta eventuella brister och framställa eventuella förbättringsförslag.
Som metod i studien användes fenomenografi, som innefattade de studerandes uppfattningar om polisutbildningens uppbyggnad i dagsläget. En enkätundersökning skickades ut till de nordiska länderna som deltagit i denna undersökning. Sammanlagt har har enkäten nått ut till 1073 studerande. Av materialet som samlades gjordes en innehållsanalys. Även fem komplementära semistrukturerade intevjuer med informanter, tre från Norge, två från Sverige och två från Finland, har lagt en grund till detta arbete.
I resultatet framgår det att trots skiljaktigheter i ländernas utbildningsplaner, anses samtliga Polisutbildningar kunna ägna mera tid till dessa ämnen både i teoretisk och praktisk form.
The purpose of this study was to examine, how students from the police academies in Finland, Sweden and Norway feel about their education that concerns foreigner control and surveillance, and if the students feel that the schools have provided them with enough knowledge and education for them to be able to handle these kinds of tasks in their work as a police officer.
This thesis was done as a support for a more comprehensive Nordplus research project of the Finnish Police University College. The project is a cooperation between Finland, Sweden and Norway in which the purpose is to make similar curriculums for the Finnish, Swedish and Norwegian police education concerning foreign control and surveillance. To find evidential flaws and ways to make the educations better concerning these subjects, I have compared the countries curriculums.
The method that I have used in this thesis is phenomenography, which includes the students' perceptions about their education as it is today. A questionnaire form was sent out to the Nordic countries and is included in this study. In total the questionnaire has reached 1073 students. In addition, I did complementary interviews with informants from all the countries, which has given material to this study.
In the result of this study it shows that despite differences in the countries curriculums, all police academies could spend more time on these subjects in both theoretical and practical terms.
Kokoelmat