Polisen och biljakter : en fenomenografisk intervjustudie om polismäns upplevelser av biljakter i tätort och utanför tätort
Lindholm, Rasmus (2019)
---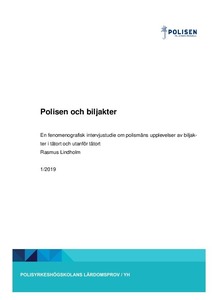 Poliisiammattikorkeakoulu
2019
Julkaisun pysyvä osoite on
http://urn.fi/URN:NBN:fi:amk-201902072092
Tiivistelmä
Syftet med denna undersökning är att undersöka polismäns upplevelser av biljakter. Av-gränsningen är gjord till Åbo fältchefs område och Åbo huvudpolisstation i Sydvästra Finland. I undersökningen undersöks hurdan bedömning av en biljakt, vilken syn och vil-ket ansvar som polismän hörande till manskapet och en polisman hörande till underbefälet har. I undersökningen granskas även vid vilken situation som informanterna skulle avbryta en biljakt. Ett tätortsområde och utanför ett tätortsområde undersöks som skilda fenomen för att ta reda på om polisernas ageranden skiljer sig i de ifrågavarande områdena.
I undersökningens resultat framgår det bland annat att biljakter är svåra situationer och det är många faktorer som man måste ta i beaktande. Det är inte bara polisen och den personen som försöker rymma som är med i ekvationen utan även övriga personer i trafiken påver-kar situationen.
Teorin har delats in i lagstiftning som behandlar biljakter, saker som påverkar polisen och teorin som förklarar varför någon försöker rymma från polisen.
Undersökningen har utförts med en fenomenografisk och hermeneutisk forskningsansats. Materialinsamlingen har gjorts med semistrukturerade kvalitativa intervjuer där informan-terna har gjort egna tolkningar på frågorna och svarat enligt den egna förståelsen.
The purpose of this thesis is to study policemens' experience with car chases. The thesis has been limited to Turku field chief area in Turku main police station in the south west of Finland. The thesis studies what kind of assessment of the car chase, what kind of view and responsibility that policemen who are working as crew and as squad leaders have. The study also examines at which point the policemen would interrupt a car chase. Car chase in an urban center and outside an urban center are studied as different phenomenons to examine if the policemens' assessments differ in these areas.
In the result of the thesis it appears among other things that car chases are difficult situa-tions and there are many factors you must take into consideration. It is not only the police and the person who is being chased that's is taken into the equation but other persons in traffic as well.
The theory has been divided into legislation, things that affect the police, theories that attend why a person tries to escape from the police.
The thesis has been done by using a phenomenographic and hermeneutic research method. The gathering of information has been made through semi-structured qualitative inter-views. The participants have made own interpretations on the questions and answered ac-cording to their own understanding.
Kokoelmat