Potato protein concentrate as a protein source for growing-finishing pigs
Palander, Samu; Siljander-Rasi, Hilkka; Valaja, Jarmo; Partanen, Kirsi (2020)
---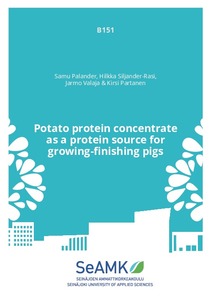 Palander, Samu
Siljander-Rasi, Hilkka
Valaja, Jarmo
Partanen, Kirsi
Seinäjoen ammattikorkeakoulu
2020
Julkaisun pysyvä osoite on
http://urn.fi/URN:NBN:fi-fe202003178301
Tiivistelmä
There is an increasing interest in possibilities to replace imported soybean products as protein source for pigs. Therefore, digestibility of wet and dried potato protein concentrate (WPPC and DPPC), by-products of the potato starch industry, and the effects of WPPC on performance and carcass quality of pigs were investigated
in two experiments. In Exp. 1, the apparent total tract digestibility of crude protein (CP) and the apparent ileal digestibility of CP and amino acids (AA) in WPPC and DPPC were estimated using cannulated pigs. Exp. 2 was a performance trial using growing-finishing pigs (27 to 110 kg). The experiment included a control diet based on barley and soybean meal (179 gkg-1) and three diets in which 25 %, 50 %, or 75 % of the protein provided by soybean meal in the control diet was substituted by WPPC. In Exp. 1, the apparent AA digestibility of WPPC was lower than that of DPPC (P<0.05 for most AA). In Exp. 2, no significant differences in average daily gain, back fat and back muscle thickness or meat percentage were observed between the control and the PPC diets. However, feed conversion ratio
improved with increasing levels of WPPC (P<0.01). In addition, carcass yield was quadratically affected by the WPPC level. The study concludes that at least 75 % of soybean protein of pig diets may be replaced with PPC without any negative effect on performance.
Kokoelmat