Science, networking and environmental education : In clean rivers to healthy Baltic Sea -project
Luste, Sami; Blom, Dick; Soininen, Hanne (2014)
---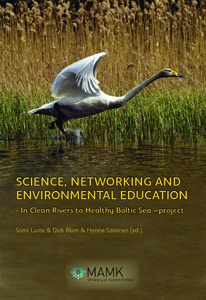 Luste, Sami
Blom, Dick
Soininen, Hanne
Editoija
Sami Luste, Dick Blom, Hanne Soininen (toim.)
Mikkelin ammattikorkeakoulu
2014
Julkaisun pysyvä osoite on
http://urn.fi/URN:ISBN:978-951-588-454-1
Tiivistelmä
The present publication is a cross-cutting summary from the main activities of the "Clean Rivers to the Healthy Baltic-Sea (LugaBalt)" –project (ENPI CBC 2007-2013). The project was carried out within the EU programme of South-East Finland – Russia ENPI CBC 2007-2013 and it was co-funded by the European Union, The Russian Federation and the Republic of Finland.

The Publication consists of several articles and it is compiled by the Mikkeli University of Applied Sciences (Mamk). The emphasis of the articles is on the project activities of the Finnish partners (Mamk and Agrifood research Finland; MTT). These contents are related to the reduction of nutrient runoffs and emissions from the agriculture, waste management in rural areas and sanitary.

The present publication is not meant to be a comprehensive study of the results or description of the LugaBalt-project, but with the help of the few examples, participation in the discussion related to the discharges from the rural areas of St. Petersburg and their effects on the condition of the Baltic Sea.

The LugaBalt-project brought together the Finnish and Russian farmers, scientists, municipal authorities, service providers and also school children and students. Also, the publications of the project are further utilised by these target groups when the work for the safer environment, sustainable primary production and waste management such as for the fruitful co-operation will be continued and applied in practice.

On the behalf of the both Finnish partners, Mamk and MTT, we want to say thank you for all of the LugaBalt-project's partners and the stakeholders of the project for the great co-operation and determined consensus to reach the common objectives. We look forward to the future projects to come.
Kokoelmat