Innovative entrepreneurship education in the Nordic-Russian context : Project report
Kakkonen, Marja-Liisa; Nemilentsev, Mikhail (2015)
---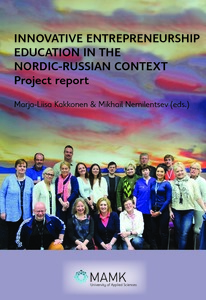 Kakkonen, Marja-Liisa
Nemilentsev, Mikhail
Editoija
Marja-Liisa Kakkonen, Mikhail Nemilentsev
Mikkelin ammattikorkeakoulu
2015
Julkaisun pysyvä osoite on
https://urn.fi/URN:ISBN:978-951-588-523-4
Tiivistelmä
This publication introduces a Nordic-Russia (NORU) project which is entitled Innovative Entrepreneurship in Nordic- Russian context (Project number NCM-RU/10088). The main goal of the project was to strengthen the network of four higher educational institutions in Russia, Finland and Denmark. The specific objectives of the project were as follows: to promote students' skills to reflect on innovations, to enhance students' entrepreneurial mindset, to train students' understanding of value creation for customers/markets, and to increase entrepreneurial teaching competences of teachers. The main goal was aimed to be achieved by arranging multi- cultural learning events as the main activities of the project for teachers and students. The specific objectives were aimed to be achieved by training them through innovation pedagogy and creating entrepreneurial innovative, interdisciplinary study modules for the students. The project has received funding from Norwegian Centre for International Cooperation in Education (SIU) and the funding mainly covered the mobility costs of all activities during the project in 2013 – 2015.

This publication consists of two parts (A+B). The part A includes five articles related to the implementation, results and evaluation of the project. The first article describes the whole project and its main activities and the second article introduces the assessment of the seminars by the participants. The third and fourth articles present the achievement of the objectives from the perspectives of the participating teachers and students. Finally, the fifth article of the part A introduces the evaluation of the whole project.

The second part of the publication, part B, includes articles written by the Finnish, Danish and Russian professors, lecturers and staff members. The articles deal with entrepreneurship education, creativity, practical training, and cultural differences. All the articles are based on the concrete insights gained from the NORU project. The articles are arranged in the following order: first come the articles focusing on several activities of the NORU project. The subsequent articles present one activity of the NORU project and after that the articles, which deal with more general aspects of entrepreneurship education and innovativeness in higher education with the links to the overall NORU project are presented. All in all, it is assumed that this publication describes the whole project, its activities and content in a very concrete way, and therefore it is a good document both for the participants of the project and for those who consider implementing a same kind of project in the near future.
Kokoelmat