FAITH RESOURCES AND SUSTAINABILITY : How do individual Christians utilize their faith resources to contribute towards sustainability?
Thebe, Laxmi P. (2015)
---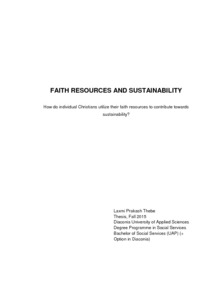 Diakonia-ammattikorkeakoulu
2015
Creative Commons Attribution-ShareAlike 1.0 Finland
Julkaisun pysyvä osoite on
http://urn.fi/URN:NBN:fi:amk-2015112417409
Tiivistelmä
Thebe, Laxmi Prakash. FAITH RESOURCES AND SUSTAINABILITY: How do individual Christians utilize their faith resources to contribute towards sustainability? Fall 2015, 62 pages.
Diaconia University of Applied Sciences, Degree Programme in Social Services + Option in Diaconal Social Work, Bachelor of Social Services (UAS) + Qualification for the office of diaconia worker in the Church of Finland.
Sustainable development is widely discoursed theme. This study narrows down the broad theme by seeking the role of Christian individuals from faith perspective. Sustainable development is used interchangeably with sustainability as the later provides dais for broad perspective and individual action whereas 'development' resonates more of a policy level concept. Kate Raworth's Doughnut Model is used to define the scope where individual can act towards sustainability regardless of the faith. The practical part of the research process starts by inquiring how an individual Christian can utilize faith resources to achieve social foundation where the basic human needs are achieved within the planetary boundaries hence discussing on two components of three pillars of sustainability as depicted in Raworth's doughnut model.
Under the rubric of Qualitative Research Methodology, focus group discussion was used as a data collection methods. Time constraint was a factor for this research, and focus group was used so that there would be no compromise in quality of data. Six participants were involved during the focus group discussion belonging to different churches. The focus group discussion was conducted in one informal Bible Study Group in Järvenpää. The data was collected audio-taping the discussion under participant's consent which was transcribed using online tool. Thematic content analysis was used for the analysis of data based on the two boundaries of doughnut model. The range of faith resources was dimly probed as width of these two boundaries whereas the study was delved in depth to relate faith resources in general with aforementioned two pillars. Ethical guidelines were followed during the entire period of this study.
The research reveals positive relationship between utilization of faith resources and sustainability. The Holy Bible was accepted as major faith resource which was defined as any resources that strengthen participants' faith in day to day life for the purpose of this study. For orientation towards sustainability, it explores individuals' possibility to construct that positive relationship in the discourse by drawing inspiration through faith resources. Conviviality and ethical consumption are outlined to be channels for individuals toward social foundation and planetary boundaries in doughnut model.
In conclusion, the research empowers a Christian individual positively and develops a space for orientation towards sustainability.
Kokoelmat