THE CONTRIBUTIONS OF CAMEROONIAN AS-SOCIATION (ASSOGRAF) TO THE INTERGRA-TION OF CAMEROONIANS IN FINLAND
Mbufung Eugene, Ngoye (2016)
---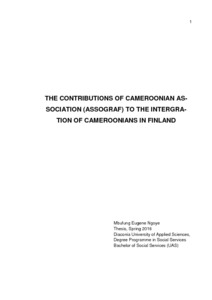 Diakonia-ammattikorkeakoulu
2016
All rights reserved
Julkaisun pysyvä osoite on
http://urn.fi/URN:NBN:fi:amk-201604053877
Tiivistelmä
ABSTRACT
The main aim of this report is to provide a clear and more visible picture to describe the idea, the process and the outcome of a documentary project which is titled "The Contributions of Cameroonian Association to the integration of Cameroonians in Finland". In my video I concentrate on the ASSOCIATION OF GRASS LANDER'S IN FINLAND (ASSOGRAF) which is one of the numerous Cameroonian associations in Finland.

The project is aimed at finding how the social and economic aspect of integration of Cameroonians are being handled by this Association (ASSOGRAF) in order to build a strong, peaceful and intensive interaction and cooperation within its members and other Cameroonians in Finland. This documentary also seeks to create awareness of the activities and contributions of ASSOGRAF both in Finland and back in Cameroon.

This is a project type of thesis and interviewing some members of the association was the method I used in the process of data collection. The film consists of interviews with three members of the Association and also some footage's of the activities of the group I found interesting such as the General Assembly meeting, parties and also some nice and interesting footage's showing the rich culture the organization seek to protect, promote and showcase in Finland. The findings or results from these interviews show's that the association plays a great role towards the integration process of most of its members (Cameroonians) into the Finnish society. This has come about as a result of the groups indoors and outdoors activities. The results were based on the personal opinions of those interviewed. .

This project also reveals important aspects of the Cameroonian culture, education, employment, accommodation, interaction and member's well-being as fundamental tools which the organization seeks to promote. The findings also revealed that there are few things in the opinion of the interviewed members that will need to be changed or given more attention.
Coming out with this project has been a very difficult and time consuming process, it has been long but also very productive and educational in many ways to both me and also those involved from the start to finish including the participants in the video and the editors.
Kokoelmat