UPDATE 2017 ON HIGHER EDUCATION : International week 25.-29.9.2017
Mirola, Tuuli (2017)
---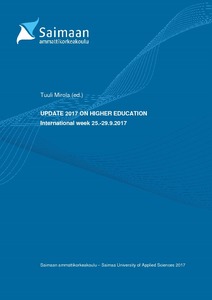 Saimaan ammattikorkeakoulu Oy
2017
Julkaisun pysyvä osoite on
http://urn.fi/URN:ISBN:978-952-7055-46-5 (PDF)
Lähdeviite:
Mirola T., (2017). UPDATE 2017 ON HIGHER EDUCATION : International week 25.-29.9.2017. , In: A: Raportteja ja tutkimuksia 78, Saimaan ammattikorkeakoulu Oy.
URN:ISBN:978-952-7055-46-5 (PDF)
Tiivistelmä
In Saimaa University of Applied Science, one of our focus area is internationality. We have arranged an annual International Week here in South Eastern Finland in the cities of Lappeenranta and Imatra for many years. This year, the theme of the week is "UPDATE 2017 on Higher Education".

We hope that during the week many leaders and professionals of higher education will have fruitful collaborations and will have great possibility to tighter interaction via professionals. As a result of this, a joint publication has already been made.

The development of cooperation is particularly supported by the opportunity to create networks and to share experiences and information. This is the kind of collaboration we hope will successfully continue in the future as well.

I believe that the articles in the publication you are now seeing will evoke rewarding discussions among our universities' staff and contribute to opening several new doors into the ever-changing and developing teaching work and education-related collaboration.
Kokoelmat