Kulttuurisensitiiviseen kokemusasiantuntijakoulutukseen osallistuneiden kokemuksia koulutuksesta sekä koulutuksen vaikutuksista osallisuuteen ja motivaatioon
Metsälä, Kathy (2019)
---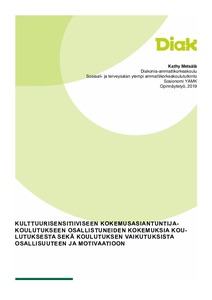 2019
All rights reserved. This publication is copyrighted. You may download, display and print it for Your own personal use. Commercial use is prohibited.
Julkaisun pysyvä osoite on
https://urn.fi/URN:NBN:fi:amk-2019111921587
Tiivistelmä
Opinnäytetyön tavoitteena oli selvittää romanien osallisuuteen keskittyvissä Tsetanes naal- ja Nevo tiija –hankkeissa (2016-2018) toteutetun kulttuurisensitiivisen pilottikoulutuksen osallistujien kokemuksia. Tarkoituksena oli löytää erityisesti syrjintää kokeneen vähemmistön koulumenestykseen vaikuttavia tekijöitä tarkastelemalla aineistoa kulttuuriekologisen teorian ja itseohjautuvuusteorian lävistämänä. Tutkimuksessa selvitettiin, minkälaisia olivat kokemusasiantuntijakoulutukseen osallistuneiden kokemukset koulutuksesta ja mitkä tekijät vahvistivat koulutusmyönteisyyttä ja osallisuutta. Tutkimuskysymyksenä oli: Kuinka rakentuu vähemmistön osallisuutta ja motivaatiota vahvistava koulutus osallistujien kokemuksen valossa?
Tutkimusaineisto muodostui neljän kokemusasiantuntijakoulutukseen osallistuneen haastattelusta, jotka toteutettiin dialogisesti teemahaastattelua mukaillen. Aineistoa käsiteltiin induktiivisen sisällönanalyysin avulla ja tuloksista kävi ilmi, että osallistujien huonot kokemukset peruskoulusta vaikuttivat vielä negatiivisesti ja nostivat alussa koulutukseen osallistumisen kynnystä. Osallisuutta omassa viiteryhmässä pidettiin ensisijaisen tärkeänä. Koulutukseen osallistumiseen vaikutti erityisesti romaniesikuvat kouluttajina sekä hengellisyyden mukanaan tuoma ajatus kehittymisestä auttajana omassa yhteisössä. Opetusmenetelmät ja sisältö koettiin oppimista tukeviksi. Koulutuksen aikana intensiivisessä prosessissa tieto muuttui merkitykselliseksi ja oma ryhmä koettiin turvalliseksi ja kannustavaksi. Osallistujien osallisuus vahvistui omaan yhteisöön ja lisäsi kokemusta osallisuuden tunteesta yhteisön ulkopuolella.
Tutkimuksen mukaan vähemmistön osallisuutta vahvistava koulutus muodostuu, kun yhteisön autonomiaa eikä kulttuurista identiteettiä horjuteta, vaan niitä vahvistetaan kokonaisvaltaisesti psykologiset perustarpeet huomioiden. Erityisen merkittävää on, että vähemmistön edustajilla itsellä on valta ja että he omistavat prosessin kaikki vaiheet. Osallisuuden vahvistuessa historiassa muodostunut jännite yhteisön (Community forces) ja yhteiskuntaa edustavan järjestelmän (The system) pienenee.
Experiences of education and the effects of education on inclusion and motivation of participants in culturally sensitive experience expert training
The objective in this thesis and related research was to explore the experiences of the Romany people who were involved with the pilot training in relation of cultural-sensitive Tsetanes naal and Nevo tiija projects during the period of 2016–2018. The main objective was to find factors influencing school performance and the overall success of Romanies who had experienced discrimination. This was done by scrutinizing available materials in the light of cultural-ecological theory and self-determination theory.
The experiences of the training participants were investigated, the facts influencing the mindset in relation to training; both positivity and the level of involvement. The main research hypothesis or question was: How to construct such minority education and training programmes which promote and enhance the participation level and overall motivation. However, not forgetting but keeping especially in mind the minorities' perspective and their earlier inner experiences.
The research material was constructed from four interviews, conducted amongst the experience-expert-training participants, performed dialogically according with the theme interview. The research material was scrutinized by the means of inductive content analysis. Based on the results it became obvious that the participants' bad experiences in primary education still had a negative impact and raised the threshold for participation in education initially. The participation within their own cultural reference group was found primarily important. Therefore, firstly one extremely important fact to a higher participation level were one's acknowledged role models in the minority group, acting as trainers. Secondly, spirituality embedded in the process assisted everyone to grow as a helper in their own community. The training process; mechanisms and the contents used were considered supportive for the entire learning curve. During the intensive training process information was transformed into understandable, concrete and meaningful and the members considered the group as secure and supporting. The overall participation of the minority training participants in their own community was increased and strengthened adding the positive experience of participation also outside their own community.
According to the research the education strengthening the participation level of a minority group is achieved when neither the autonomy of a community nor its cultural identity is disregarded but instead strengthened fully by taking into account the basic psychological needs of each minority group. It is extremely important that the representatives of these groups themselves have the power and entitlement, and that the process ownership is given and also taken by them from the very beginning till the end of the life cycle of the education project. The tension existing and created over a long period of time between the Romanies and the community forces, and the system representing the society will gradually diminish when the minorities feel strong participation ownership and empowerment.
Kokoelmat