IMMIGRANT FAMILY LIFE IN FINLAND : The male perspective on family life relationship, upbringing of children and social integration
Djabanor, Jerry (2011)
---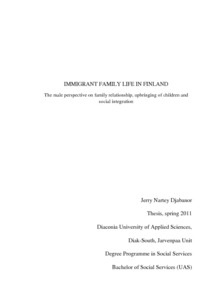 Diakonia-ammattikorkeakoulu
2011
All rights reserved
Julkaisun pysyvä osoite on
http://urn.fi/URN:NBN:fi:amk-201103173324
Tiivistelmä
The male perspective on family life relationship, upbringing of children and social integration. Language: English. Järvenpää, Spring 2011, p.81, 2 appendices.
Diaconia University of Applied Sciences. Degree Program in Social Services. Degree: Bachelor of Social Services.
The migration of immigrants into Finland comprises a lot of Africans and Asians who one cannot find much information about in Finnish literature. It was therefore found out to be important to draw the attention of the public by researching into the family life of this group of immigrants. The aim was to find out influential factors that makes the immigrant male undecided about his stay in Finland. Another r aim was to find out issues affecting his everyday family life relationship and upbringing of children.
The data was collected through qualitative research by the use of interviews, public observations, open conversations and informal discussions. A field dairy and a digital voice recorder device were used as tools in the data gathering process. Comparative, narrative, descriptive and socio-cultural analyses as well as strengths, weakness, opportunities and threats analyses were used as research methods to analyses the data.
Based on the samples of the collected data which was analyzed, the results suggested that division of labour in the family rely on domestic work as female thing and financial responsibility as a male thing contrary to the Finnish family system of fifty percent responsibility for each partner. The results also reveal that children with immigrant background will grow up in-between two cultures. The results also indicated that, the traditional parenting practices of upbringing of the immigrant family male were in conflict with the Finnish concepts of upbringing. The results also suggested that the immigrant male feels secured living in Finland because of the system of free education, peaceful and stable environment and social welfare support system. Lack of employment opportunities, obligatory of immigration policies and lack of language proficiency were also suggested based on the results as some of the factors hindering the integration process of the immigrant family male.
Tolerance coexistence, transnational counseling, change of attitude, flexible employments and an end to immigration policies that discriminate were suggested as part of the recommendations based on the results. The study can be used by social work and social service professionals to facilitate their work with immigrant groups.
Kokoelmat