Russia and Europe: from mental images to business practices : Papers from the VII International Conference of Finnish Russian and East European Studies and other writings
Nysten-Haarala, Soili; Pynnöniemi, Katri (2010)
---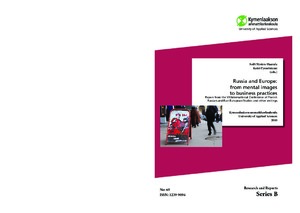 Nysten-Haarala, Soili
Pynnöniemi, Katri
Editoija
Soili Nysten-Haarala, Katri Pynnöniemi (eds.)
Kymenlaakson ammattikorkeakoulu
2010
Julkaisun pysyvä osoite on
http://urn.fi/URN:ISBN:978-952-5681-92-5
Lähdeviite:
Nysten-Haarala S., Pynnöniemi K., (2010). Russia and Europe: from mental images to business practices : Papers from the VII International Conference of Finnish Russian and East European Studies and other writings. Soili Nysten-Haarala K. (Ed)., In: Kymenlaakson ammattikorkeakoulun julkaisuja B65, Kymenlaakson ammattikorkeakoulu.
URN:ISBN:978-952-5681-92-5
Tiivistelmä
The Seventh symposium for Russian and East European Studies (VIEPÄ) was organized in March 2008 at the University of Applied Studies, Kouvola. The idea of the symposium was to facilitate discussion on "logistics" of cooperation between Russia and Europe. The term logistics has its etymological roots in Ancient Greece and 'Logistikas' of Roman empire that were special war envoys in charge of mobility and services of the army. In the modern times the concept has acquired a new meaning in the context of economics. In the most general level it refers to controlling of time and space – to the process of speeding up and rationalizing the movement of goods and people through the economic system. The relations between Russia and the EU has its own 'logistics' as well. This is a repertoire of institutions through which Russia and the EU interact. In a more symbolic level, 'logistics' of Russia-EU relations consists of a vocabulary that forms a basis for a dialogue. However, as the developments in the recent years show, the same words used in articulating the relationship do not necessarily turn into common actions. The present collection of articles aspires to facilitate multidisciplinary discussion on prospects of EU-Russia relations and developments taking place in Russia.
Kokoelmat