Research protocol: Technology-supported guidance to increase flexibility, quality and efficiency in the clinical practicum of nursing education
Nes, Andréa A.G.; Fossum, Mariann; Steindal, Simen A.; Solberg, Marianne Trygg; Strandell-Laine, Camilla; Zlamal, Jaroslav; Gjevjon, Edith L.R. (2020)
---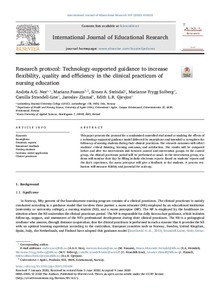 Nes, Andréa A.G.
Fossum, Mariann
Steindal, Simen A.
Solberg, Marianne Trygg
Strandell-Laine, Camilla
Zlamal, Jaroslav
Gjevjon, Edith L.R.
Pergamon Press.
2020
Julkaisun pysyvä osoite on
http://urn.fi/URN:NBN:fi-fe202101202193
Lähdeviite:
Nes A., Fossum M., Steindal S., Solberg M., Strandell-Laine C., Zlamal J., Gjevjon E., (2020). Research protocol: Technology-supported guidance to increase flexibility, quality and efficiency in the clinical practicum of nursing education. , Pergamon Press..

Tiivistelmä
This paper presents the protocol for a randomized controlled trial aimed at studying the effects of
a technology-supported guidance model delivered by smartphone and intended to strengthen the
follow-up of nursing students during their clinical practicum. The research outcomes will reflect
students' critical thinking, learning outcomes, and satisfaction. The results will be compared
before and after the intervention and between control and intervention groups. In the control
group, the clinical practicum period will be performed as usual. In the intervention group, students
will monitor their day by filling in daily electronic reports. Based on students' reports and
the day's experience, the nurse preceptor will give a feedback to the students. A process evaluation
will measure fidelity and potential for scale-up.
Kokoelmat