Diploma of Higher Education : Competence modules for everyone
---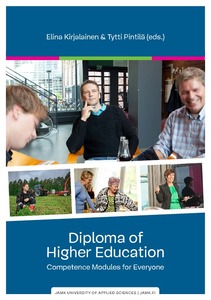 Editoija
Kirjalainen, Elina
Pintilä, Tytti
Jyväskylän ammattikorkeakoulu
2016
Julkaisun pysyvä osoite on
http://urn.fi/URN:ISBN:978-951-830-416-9
Lähdeviite:
Kirjalainen E., Pintilä T. (Eds.)., (2016). Diploma of Higher Education : Competence modules for everyone. , In: Jyväskylän ammattikorkeakoulun julkaisuja, Jyväskylän ammattikorkeakoulu.
URN:ISBN:978-951-830-416-9
Tiivistelmä
In 2013–2015, JAMK University of Applied Sciences implemented a national pilot project Diploma of Higher Education based on a proposal by the Finnish Ministry of Education and Culture. The aim was to determine the need for working life for competence modules consisting of parts of higher education
degrees which diversify the offering and participants. Similar higher education programmes have grown more common internationally.

JAMK UAS implemented four diploma of higher education programmes as UAS open studies: Agricultural Entrepreneur Business Competence, Gerontological Rehabilitation, HR and Financial Specialist and Purchasing Specialist. The aim of the students was to expand their competence, develop their own work and further advance in their careers. For the training to succeed, it was important to invest in instruction, support group formation and have flexible implementation models.

The students were able to develop their competence based on their own individual needs and the needs of working life, regardless of their educational background. Groups that promoted peer learning and networking were felt to be the strengths of the training. The costs for students were also very moderate. If needed, the studies can later be credited towards a degree programme.

Diplomas of higher education are a quick and flexible way to implement various competence modules that meet the needs of working life. The students and employers have appreciated the pre-packaged, clear and sufficiently advanced competence modules of 60 ECTS cr.
Kokoelmat