Branding - en kvalitativ studie av Åland Posts varumärkesarbete
Manner, Helmiina; Söderberg, Simon (2016)
---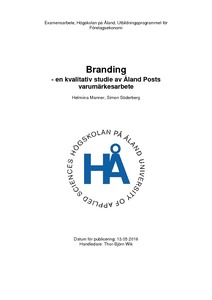 Manner, Helmiina
Söderberg, Simon
Högskolan på Åland
2016
All rights reserved
Julkaisun pysyvä osoite on
http://urn.fi/URN:NBN:fi:amk-201605208999
Tiivistelmä
Idag måste man differentiera sig på något sätt när konkurrensen är stor och produkterna är väldigt homogena. Detta kan lättast göras med branding då det också fungerar som en kvalitetsgaranti. Ett starkt varumärke ökar den upplevda kvaliteten samt minskar konsekvenserna vid fel. I andra ord ger ett starkt varumärke mycket flexibilitet till märkesinnehavaren.
Syftet med det här arbetet var att undersöka hur man kan bygga upp ett starkt varumärke. Detta har gjorts med hjälp av olika teorier om ämnet branding. Man kan säga att för att skapa ett starkt varumärke måste man ha produkter eller tjänster av en högre kvalitet än konkurrenternas, vara differentierad samt få sin personal att förmedla varumärkets värderingar. För detta behöver varumärket ha en tydlig identitet. Skillnader mellan B2C och B2B varumärken diskuteras kortfattat.
Dessutom har Åland Post använts som exempelfall i en kvalitativ undersökning av hur de arbetat med re-branding av sitt varumärke i praktiken. Resultat har analyserats med hjälp av lämplig teori vilken säger att Åland Post har för det mesta arbetat på ett välstrukturerat sätt som kan leda till ett starkt varumärke.
Riktlinjer till ett företag som tänker arbeta med sitt varumärke ges i form av en enkel checklista.
It is important for a company to differentiate itself due to the strong competition and homogenous products of today's markets. This is most easily done with branding which can also act as quality assurance for the company/product. A strong brand increases the experienced quality and allows for more mistakes. In other words a strong brand gives the brand owner a much higher degree of flexibility towards all interested parties.
The aim of this work was to research how one can build a strong brand. This has been done with help from varied theories about branding.
To be able to build a strong brand one has to have high quality products or services, be differentiated, and get one's personnel to channel one's values. This requires a clear brand identity. The differences between B2C and B2B brands are discussed shortly.
The Åland Post is used as a qualitative case study into how they have worked with the re-branding of their brand. The results have been analysed with relevant theory, which says that Åland Post has worked in a well-structured way that can lead to a strong brand.
Guidelines for companies that are planning on working with branding are given in the form of a checklist.
Kokoelmat