Kampanjplanering inför ett politiskt val : Regina Lindbloms valkampanj
Lindblom, Felicia (2016)
---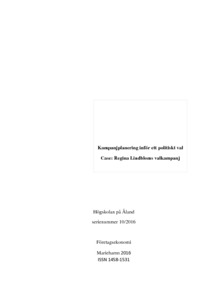 Högskolan på Åland
2016
All rights reserved
Julkaisun pysyvä osoite on
http://urn.fi/URN:NBN:fi:amk-201605239271
Tiivistelmä
Nationalencyklopedins definition av kampanj är, "En intensiv verksamhet under viss tid i avsikt att påverka". Valkampanj inför ett politiskt val handlar om att marknadsföra kandidatens och partiets tankar och idéer. Det krävs att under denna period genom olika marknadsföringskanaler nå ut till väljarna för att övertyga dem att rösta på kandidaten.
Jag har utfört en kvalitativ undersökning med deltagande observation i min fallstudie Regina Lindbloms valkampanj inför kommunal- och lagtingsvalet på Åland 2015 med anpassad teori där ledorden varit: marknadsföring, kampanjplanering, valkampanj, marknadskommunikation, kommunikationsmixen och sociala medier vid opinionsbildning.
Ett mål med denna undersökning är att arbetet ska kunna användas som handbok för nybörjare i politiska val. Syftet är att planera och genomföra en valkampanj åt Regina Lindblom. Med hjälp av teori och observationer har jag eftersträvat förståelse i hur planering och genomförande av en lyckad valkampanj kan utföras. Även hur man bör använda sociala medier vid marknadsföring av tankar och idéer samt som kommunikationskanal.
Slutligen har jag jämfört jag teorin med min fallstudie där jag kom fram till att utföra en lyckad valkampanj behövs kampanjplanering för att kunna förutse och för att motverka eventuella problem. Användningen av sociala medier är ett kostnadseffektivt alternativ där flera väljare kan nås samtidigt, en effektiv men tidskrävande kommunikationskanal. Det bästa sättet att nå väljarna är genom personligt kampanjarbete på fältet där det kan föras en öppen diskussion. Det är ett sätt för väljarna att framföra sina åsikter samt för kandidaten att argumentera för sin åsikt.
One definition of the word campaign is intensive marketing during a limited period of time with the intention to influence. In a political campaign the intention is to market the candidate's and the party's political standpoints in society issues. Before the election the candidates uses different kinds of marketing channels to reach the voters and persuade them to vote for them.
In this survey I have used qualitative research and participating observation of my case Regina Lindblom, who was a candidate for the Liberal party in the election on the Aland island 2015.
The goal with this survey is that a beginner in politics could use this as a political campaign planning manual. The purpose is to plan and carry on a political campaign for Regina Lindblom. By studying credible theory and together with my own observations I have increased my understanding of what makes a successful political campaign. In my survey I have also investigated the use of social media as a marketing channel for political purposes, and formulated recommendations when you are marketing thoughts and ideas.
At last in this survey I have compared the theory of campaign planning and my observations to reach my conclusion that a successful political campaign needs to be well planned to prevent possible obstacles. Social media is a cost efficient marketing option because you can reach a large amount of people at the same time, but it is also a very time demanding communication channel. The best way to reach voters is the personal campaign, where you meet the voters face-to-face. That is a way for the candidate to argue for his or her opinions as well as for the voters to state their views.
Kokoelmat