När varningsklockorna ringer : Sjukskötarens identifiering av barn som utsätts för våld
Portman, Mikaela; Henriksson, Jenni (2016)
---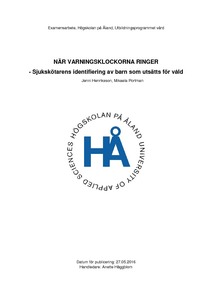 Portman, Mikaela
Henriksson, Jenni
Högskolan på Åland
2016
All rights reserved
Julkaisun pysyvä osoite on
http://urn.fi/URN:NBN:fi:amk-2016052610048
Tiivistelmä
Bakgrund: Barn som utsätts för våld är ett globalt problem som medför stora konsekvenser för både barnet och samhället. Tidigare studier visar att sjukskötaren anser sig ha bristfälliga kunskaper i att identifiera barn som utsätts för våld och att mer utbildning behövs. Enligt både åländsk, finsk och svensk lagstiftning har all vårdpersonal anmälningsplikt om de misstänker att ett barn utsätts för våld.
Syfte: Beskriva vad som ingår vid sjukskötarens identifiering av barn som utsätts för våld.
Metod: Metoden för arbetet var en systematisk litteraturöversikt som analyserades utifrån Fribergs (2015) modell.
Resultat: De utvalda artiklarna analyserades och resulterade i ett tema, fyra kategorier och nio underkategorier. Temat var att ha beredskap. Kategorierna var attityder med underkategorierna en svår arbetsuppgift och ett svårt beslut. Kommunikation med underkategorierna att kommunicera med barnet, att kommunicera med familjen och att kommunicera med sociala myndigheter. Bedömning med underkategorierna observation som en del av identifieringen och att använda formulär som en del i identifieringen. Den sista kategorin var stöd med underkategorierna stöd till barnet och familjen samt stöd från kollegor och andra professioner.
Slutsats: Det som ingår vid sjukskötarens identifiering av barn som utsätts för våld är attityder, kommunikation, bedömning och stöd. Det är viktigt att arbetsgivaren kan ge den utbildning som behövs för att sjukskötaren ska få en bra beredskap till att identifiera barn som utsätts för våld. Mer forskning behövs om varför sjukskötare inte anmäler våldet trots att de enligt lag skall göra det samt om screening som redskap kan användas på andra enheter än akuten.
Background: Child abuse is a global issue that's causing severe consequences for the child and the society. Earlier studies show that nurses believe that their ability to identify child maltreatment is insufficient and that they need more knowledge about the topic. According to the law in Aland, Finland and Sweden there's mandatory reporting of suspected child maltreatment for all health care staff.
Aim: Describe what has importance when the nurse identifies maltreated children.
Method: The method of this study was a systematic review. The model used for the analysis of the results was Friberg's (2015) model.
Results: The chosen articles that were analysed resulted in a theme, four categories and nine subcategories. The theme was to have preparedness. The four categories were attitudes with the subcategories a difficult work task and a difficult decision. Communication with the subcategories with the child, with the family and with the social services. Assessment with the subcategories observation as a part of the identification and tools as a part of the identification. The last category was support with the subcategories support to the child and family and support from colleagues.
Conclusion: There are four things that stand out as important in the nurses' identification of child abuse. Attitudes, communication, assessment and support. It's important that the employer can give the nurses training so that they have the preparedness they need for identifying child abuse. More studies need to focus on why nurses don't report the child abuse and if screening in other contexts than emergency departments can be used.
Kokoelmat