Styrsystem för gasturbin
Runcrantz, Nina; Eklund, Gideon (2016)
---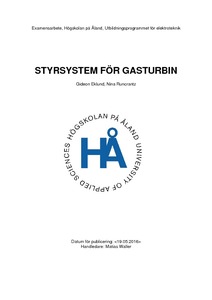 Runcrantz, Nina
Eklund, Gideon
Högskolan på Åland
2016
All rights reserved
Julkaisun pysyvä osoite on
http://urn.fi/URN:NBN:fi:amk-2016091914392
Tiivistelmä
Vi fick i uppdrag att utveckla ett styrsystem för en gasturbin med en vattenbroms som belastar turbinen. Dessa hade Högskolan på Åland förvärvat i utbildningssyfte. Syftet var att
programmera styrsystemet i LabVIEW, välja lämplig signalbehandlingsenhet och givare. Programmet skulle innehålla funktioner som
start, stopp, varvtalsreglering och övervakning av bl.a. temperaturer och tryck hos gasturbinen. Driftsäkerheten var en annan faktor som vi var tvungna att ta hänsyn till.
Metoden som användes för utvecklingen av styrsystemet var kvalitativ aktionsforskning.
Styrsystemet vi utvecklade uppfyllde de krav vi hade på säkerhet, flexibilitet och framtida utveckling.
Vid projektets slut startades gasturbinen upp med hjälp av vårt styrsystem utan problem. Tyvärr hann vi inte med att slutföra styrsystemet för den vattenbroms som är tänkt att fungera som belastning för gasturbinen.
We were commissioned to develop a control and supervisory system for a gas turbine with a hydraulic dynamometer for load. The Åland University of Applied Sciences had acquired
these for educational purposes. The aim was to program the control system in LabVIEW, to
select appropriate signal processing unit and sensors. The program was to include features of the gas turbine such as start, stop, speed control and monitoring of temperatures and pressures,among other things. The reliability was another factor that we had to take into account.
The method used for the development of the control system was qualitative action research.
The control system we developed met the requirements we had set up regarding security, flexibility and future development.
At the end of the project we started the gas turbine with the help of our control system without problems. Unfortunately, we were unable to finalize the control system for the hydraulic dynamometer which is intended to act as a load of the gas turbine.
Kokoelmat