Whiskypremiumisation i barer på Åland : Har kundernas produktkännedom ändrat sortimenten?
Javén, Tomas (2016)
---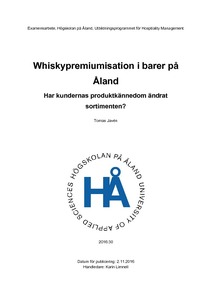 Högskolan på Åland
2016
All rights reserved
Julkaisun pysyvä osoite on
http://urn.fi/URN:NBN:fi:amk-2016110915929
Tiivistelmä
Detta arbete handlar om det finns en växande marknad av whisky inom de åländska krogarna och om whiskysortimenten till kan bli påverkade av gästernas efterfrågan. Arbetet grundar sig på whisky och premiumisation och om och hur dessa två har ändrat. Arbetet undersöker kundernas produktkänndom genom krögarnas uppfattningar och deras åsikter om detta samt, whisky och dess premiumisation.
Undersökningen grundar sig på de teorier det finns om premiumisation, som är en ny term inom spritindustrin och som håller på att bli mera framträdande i dryckesval av konsumenter. Premiumisationen kan även förklaras med hjälp av dryckestrender. Teorin bakom premiumisationen baserar sig på undersökningarna "Drinking to the future" av ISPOS, 2013 och "Global spirits: Slowing but still offers opportunities" av Euromonitor, 2015.
Själva undersökningen är i formen av en kvalitativ intervju som ser på om de globala trenderna bland whisky påverkar sortimenten på de Åländska restaurangerna och barerna. Intervjun är baserad på en sluten marknad, med en kort säsong med turister och med en omfattande och krävande lokalmarknad.
Undersökningen kom fram till att det inte finns en tydlig trend för premiumwhisky, men det finns en efterfrågan på premiumprodukter i andra kategorier. Undersökningen visade även att kundernas efterfrågan kunde påverka sortimenten, om efterfrågan är tillräckligt stor och produkten är lämplig till restaurangens koncept.
This thesis is about if there is a growing market of whisky amongst the restaurants on the Åland islands and if the whisky assortments can be affected by the guests demands. The paper is based on theories of whisky, premiumisation and if and how these two have changed. The thesis examines the customers product knowledge through the restaurant managers points of views and opinions about this and premiumisation and whisky.
The thesis is based on the theories that already exists about premiumisation, which is a new term in the spirit industry and which is becoming more visible in the choices of drinks with the consumers. Premiumisation can also be explained by trends. The theory behind premiumisation is based on the studies "Drinking to the future" by ISPOS, 2013 and "Global spirits: Slowing but still offers opportunities" by Euromonitor, 2015.
The study is in the form of a qualitative interview and is about if the global trends with whisky is affecting the product ranges on the Åland based restaurants and bars. The interview is based on a closed market, with a short season with tourists and with a broad and demanding local market.
The study concluded that there is no clear demand for premium whisky, but the study also showed that there is a trend for other products in the premium category. The study also showed that the customers demand could change the assortmets in the restaurants, if the demand was high enough and if the product was suitable to the restaurants concepts.
Kokoelmat