Proceedings of the METNET Seminar 2016 in Castellon : METNET Annual Seminar in Castellon, Spain, on 11 – 12 October 2016
Virdi, Kuldeep; Tenhunen, Lauri (2016)
---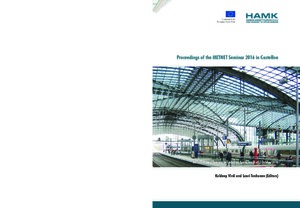 Virdi, Kuldeep
Tenhunen, Lauri
Editoija
Virdi, Kuldeep
Tenhunen, Lauri
Hämeen ammattikorkeakoulu
2016
Julkaisun pysyvä osoite on
http://urn.fi/URN:ISBN:978-951-784-785-8
Lähdeviite:
Virdi K., Tenhunen L., (2016). Proceedings of the METNET Seminar 2016 in Castellon : METNET Annual Seminar in Castellon, Spain, on 11 – 12 October 2016. Virdi K., Tenhunen L. (Eds.)., In: HAMKin julkaisuja 4/2016, HAMKin e-julkaisuja 6/2016, Hämeen ammattikorkeakoulu.
URN:ISBN:978-951-784-785-8
Tiivistelmä
The METNET network aims to enhance the development potential and the research and innovation capacities of regional innovation systems and wider communities of Europe. METNET provides an international innovation environment for its members and the possibility to expand their regional innovation networks internationally.

METNET seminars and workshops deal with technical aspects of metal construction as well as issues of concern to industry on management, planning and sustainability of projects.

This book covers papers presented and submitted for the tenth annual METNET seminar in October 2016 held at Universitat Jaume I (UJI), Castellon, Spain. The seminar continued the METNET tradition of presenting scientific and development papers of high calibre.
Kokoelmat