Nyrekrytering av personer diagnostiserade med ADHD
Lindholm, Jessica; Sjöblom, Jenny (2017)
---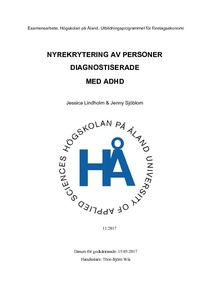 Lindholm, Jessica
Sjöblom, Jenny
Högskolan på Åland
2017
All rights reserved
Julkaisun pysyvä osoite on
http://urn.fi/URN:NBN:fi:amk-201705229343
Tiivistelmä
Människor med funktionshinder betraktas av samhället som en utsatt grupp och har generellt svårare att etablera sig på arbetsmarknaden. Människor har i regel har en lägre sysselsättningsgrad och är i behov av extra stöd i form av planering, strukturering och flexibla arbetstider. Syftet med denna studie har varit att ta reda på hur ett företag på Åland agerar vid en nyrekrytering av person med funktionshinder samt att undersöka vilka hjälpmedel som finns. Syftet har även varit att undersöka vad en arbetsmarknadsmyndighet kan erbjuda i sammanhanget.Dagens urvalssystem vid rekryteringar väljer ofta bort kreativa individer som inte anses uppfylla kraven på struktur, organisation och förmåga att leda andra människor. Detta leder till att företaget får punktliga medarbetare men som har svårare med kreativiteten. Optinova AB är ett företag på Åland som arbetar aktivt med dessa frågor, eftersom de ser vad individen kan medföra företaget i den rekryteringsprocess de tillhandahåller. Resultatet visar att företag på Åland har de nycklar som behövs för att kunna integrera individer med funktionsnedsättning såsom ADHD i arbete, då bra stöd och verktyg från myndigheter såsom AMS finns. Detta innebär att förutsättningar finns, men tyvärr saknas kunskap och uppföljning i ämnet ute på arbetsplatserna. Detta behöver utvecklas i form av utbildning vad gäller neuropsykiatriska funktionsnedsättningar.
People with disabilities are viewed by society as a vulnerable group and they find it
generally more difficult to enter the labor market. People usually have a lower
employment rates and are in need of additional support in the form of planning, structuring
and flexible working hours. The purpose of this study was to find out how a business in
Åland act when recruiting of people with disabilities and to investigate the means
available. The aim has also been to examine what a labour market authorities can offer in
this context.
Today's selection system for recruitment often opt out creative individuals who are not
considered to meet the requirements of structure, organization and the ability to lead other
people. This means that the company gets punctual employees but have more difficulty
with creativity.
Optinova AB is a company in Aland, working actively on these issues, because they see
what the individual can bring the company in action to the negative aspects of the
recruitment process they provide.
The results show that companies in Aland have the keys they need to integrate people with
disabilities such as ADHD in the work, then good support and tools from agencies such as
AMS (labour market authorities) are being provided. This means that the conditions are
there, but unfortunately there is a lack of knowledge and follow-up at workplaces. This
needs to be developed in the form of training regarding neuropsychiatric disorders.
Kokoelmat