CFD modeling of airflow in a kitchen environment : Towards improving energy efficiency in buildings
Shah, Srujal; Dufva, Kari (2017)
---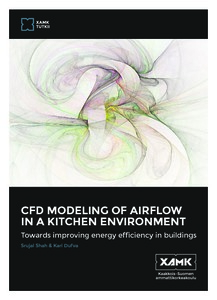 Kaakkois-Suomen ammattikorkeakoulu
2017
Julkaisun pysyvä osoite on
http://urn.fi/URN:ISBN:978-952-344-022-7
Lähdeviite:
Shah S., Dufva K., (2017). CFD modeling of airflow in a kitchen environment : Towards improving energy efficiency in buildings. , In: Xamk Tutkii 1, Kaakkois-Suomen ammattikorkeakoulu.
URN:ISBN:978-952-344-022-7
Tiivistelmä
The building sector accounts for a large fraction of total energy consumption. Thus, there is a need to find methods for improving the energy efficiency of homes and houses. Among all the building services, heating, ventilation and air conditioning (HVAC) systems play an important role in building energy use. In HVAC, proper ventilation is very important because it helps in controlling the indoor air quality and providing thermal comfort. Computational fluid dynamics (CFD) is a highly used tool to predict the design, function and analysis of ventilation systems. This research report presents a computational model in conjunction with laboratory tests for better understanding of the indoor climate of kitchen environments.

A test room located at South-Eastern Finland University of Applied Sciences in Mikkeli was chosen for the case study. A kitchen hood was installed in the room. The purpose of the hood was to allow mixing of the air coming through the supply inlets with the contaminants in the kitchen and effectively remove those contaminants through the outlets in the hood. In the experimental measurements, CO2 was used as a tracer gas and its mixing with the air was studied. CFD-predicted distribution of the tracer gas around the room, using various airflow rates for the air and CO2, was compared with the experimental measurements of the CO2 concentrations at different locations in the room. Comparison between the experimental and CFD results showed that computer simulations have great potential in studying airflows in ventilated spaces when applied in the proper way.

It was observed that ventilation airflow rates have a large effect on the overall airflow distribution in the indoor environment. When the airflow rate is unnecessarily high, energy is wasted. A higher airflow rate does not necessarily help to remove pollutants from the kitchen environment and also increases the energy cost. Instead, a lower airflow rate helps with proper mixing of the air and results in a lower energy cost. However, the determination of an optimal airflow rate that is energy-efficient and provides acceptable indoor airflow quality needs further research. The research conducted in this project will be useful for professionals working on the design and operations of commercial kitchen hoods.
Kokoelmat