Transpersoners möte med hälso- och sjukvården : Vårdande och icke-vårdande upplevelser
Liewendahl, Ida; Verho, Gabriella (2017)
---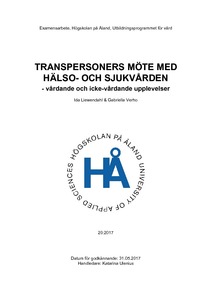 Liewendahl, Ida
Verho, Gabriella
Högskolan på Åland
2017
All rights reserved
Julkaisun pysyvä osoite on
http://urn.fi/URN:NBN:fi:amk-2017060111708
Tiivistelmä
Bakgrund: Sjukskötare upplever att de har bristande kunskap om vad det innebär att vara transperson, vilket kan leda till negativa attityder och bristfälligt bemötande. För att kunna ge personcentrerad omvårdnad krävs att sjukskötaren har förståelse för att det som finns på utsidan inte alltid behöver stämma överens med vad patienten upplever på insidan.
Syftet med denna studie var att belysa transpersoners upplevelser av mötet med hälso och sjukvården.
Metoden som användes var systematisk litteraturstudie. Till studien valdes 13 artiklar, med beskrivningar av transpersoners upplevelser av hälso och sjukvården. Artiklarna granskades och analyserades sedan utifrån det som upplevdes vårdande och icke vårdande.
Resultatet redovisas enligt negativa och positiva upplevelser. Till de negativa hör att bli nekad vård, att möta okunskap, att möta förutfattade meningar, att få sin könsidentitet ifrågasatt, att bli benämnd med fel pronomen och att mötas med respektlöshet. Positiva upplevelser beskrevs som att få sin könsidentitet bekräftad, att bli professionellt bemött samt att känna trygghet.
Slutsats: Det ses som en självklarhet att alla patienter ska bemötas på ett värdigt sätt, men trots detta har brister i bemötandet visat sig vara ett vanligt problem. Ökad kulturell kompetens och ett etiskt förhållningssätt skapar förutsättningar för positiva möten där transpersonen känner sig bekräftad och professionellt bemött.
Background: Nurses find that they have insufficient knowledge of what it means to be a transgender person, which can lead to negative attitudes and inadequate treatment. In order to provide person centered care, the nurses must understand that what they see on the outside is not always consistent with what the patient experiences on the inside.
The aim of this study was to illustrate transgender persons' experiences of the meeting with health care.
The method used was a systematic literature study. The study included 13 articles, with descriptions of transgender persons' experiences of health care. The articles were examined and then analyzed based on what was experienced as caring and non caring.
The result is presented as negative and positive experiences. Negative experiences include being denied care, meeting ignorance, meeting preconceived notions, getting one's gender identity questioned, being called by the wrong pronoun and meeting disrespect. Positive experiences were described as having their gender identity confirmed, being professionally treated and feeling safe.
Conclusion: It is seen as a matter of course that all patients should be treated in a worthily manner, but despite this shortcomings in the treatment have proved to be a common problem. Increased cultural competence and an ethical approach creates conditions for positive meetings where the transgender person feels acknowledged and professionally treated.
Kokoelmat