Sjöfartsspråk : ursprung och släktskap
Leman, Karl; Boman, Fredrik (2017)
---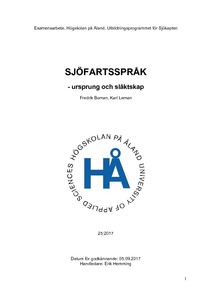 Leman, Karl
Boman, Fredrik
Högskolan på Åland
2017
Creative Commons Attribution-ShareAlike 3.0 Unported
Julkaisun pysyvä osoite on
http://urn.fi/URN:NBN:fi:amk-2017090514820
Tiivistelmä
Syftet med vårt arbete var att visa på sjöfartsspråkets internationella ursprung och släktskap.
Ett delsyfte var att väcka intresse för detsamma, och för främmande språk i allmänhet.
Vi har på så sätt valt ut vissa språk, både utgående från vår egen geografiska position och
från vilka språk som har influerat svenskt sjöfartsspråk mest. Vi har i stort sett avgränsat
arbetet till europeiska språk.
Vår huvudsakliga metod bestod i att forska i böcker, tidskrifter och på olika databaser på
internet. Vi gjorde även en enkätundersökning i några sjöfartsskolor i Europa. Enkäterna gav
flera bra infallsvinklar, men visade sig däremot inte ge så mycket information som vi hade
hoppats.
Arbetet resulterade i en ordlista, som presenteras i kapitel 4. Utöver ordlistan har vårt
forskande producerat en utredning av bakgrunden till ett antal av orden från listan, samt en
utredning av några olika sjöfartsrelaterade ordspråk och uttryck som vi kommit i kontakt
med.
Det visar sig att det absolut finns orsak att forska i sjömansspråk. Det har visat sig ha både
en intressant historia och ett speciellt släktskap mellan länderna. Exempelvis kunde man
göra en liknande undersökning för asiatiska språk eller dialekter runt om i världen.
The purpose of this essay was to show the international origins and relationships of maritime
language. We also aimed to spark an interest in this and for foreign languages in general.
We have chosen languages based on our geographical position and on languages' influence
on Swedish maritime language. Basically we limited the essay to European languages.
Our main way of gathering information was research in books, magazines and various
databases online. Besides this we performed a survey in a few different European maritime
academies. The questionnaires offered many good points of view, but did not yield as much
information as we had hoped.
Our work resulted in a dictionary, which is presented in chapter 4. Apart from the dictionary
our research has produced a summary of the background of some of the words in the
dictionary, as well as a look into a few proverbs and expressions that are related to the
maritime field.
The conclusion is that there are good reasons to do research into maritime languages. The
history is interesting and there is a special relationship between languages and across
borders. A future study could for example make a similar investigation of Asian languages
or dialects around the world.
Kokoelmat