Huom! Theseus-tuen yhteydenotto on poissa käytöstä teknisten huoltotöiden takia 11.–15.10.2019. Ongelmatilanteessa ota yhteyttä oman ammattikorkeakoulun kirjastoon. Attention! Theseus Support e-mail is out of use 11.–15.10.2019. In case of problems please contact your own UAS Library. OBS! Theseus Support e-post är ur användning 11.–15.10.2019. Om du har problem, vänligen kontakta ditt eget UAS-bibliotek.
Oral hygiene in the nursing care of elderly patients
Abshir, Ladna; Meditskos, Jessica; Vogiatzi, Athina (2017)
---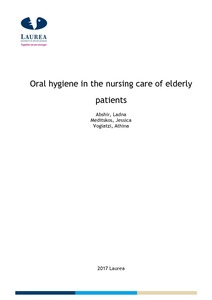 Abshir, Ladna
Meditskos, Jessica
Vogiatzi, Athina
Laurea-ammattikorkeakoulu
2017
All rights reserved
Julkaisun pysyvä osoite on
http://urn.fi/URN:NBN:fi:amk-2017092715457
Tiivistelmä
Oral health is an important aspect in the nursing care of the elderly, as nurses are responsible for providing oral care to the elderly. This Bachelor's thesis aim is to identify the ways nurses implement oral hygiene.
This thesis was organized and conducted as a part of a literature review with an inductive approach of analizing the data. The authors retrieved the articles from Laurea Finna and EBSCOhost databases, which are freely offered to any student of University of Applied Sciences in Finland. The methodology was divided into 2 large sections: the first included the three phases of article selection, and the second the critical appraisal of the reviewed articles. Overall, this thorough review of the articles led to a total of ten articles that were thoroughly examined in the findings.
The findings of this thesis showed that the oral hygiene is not implemented by the nurses, as it should be. The lack of adequate training in relation to oral care, insufficient supplies, lack of ample time, and inconsistent practices were the main factors that contributed to poor oral nursing care of elderly patients in long-term care facilities or hospitals. However, the authors found evidence that there has been continuous effort to optimize oral nursing care by either providing oral care specialized training to nurses or through the implementation of various innovative nursing interventions, which are based on the introduction of kits or other oral care tools that are easily available for the nurses to use. The authors of this paper suggest that the research on how the oral nursing care should be continued, and advocate for nursing researchers to conduct more in-depth analysis of the nursing aspects of oral care.
Suun terveys on tärkeä osa vanhusten hoidossa varsinkin, kun he eivät itse välttämättä pysty toteuttamaan tätä itse. Tämän hoito ja vastuu siirtyvät hoitajille, jotka suunnittelevat ja toteuttavat hoitosuunnitelmia. Ikääntyvät hampaat tulevat usein omien hankaluuksien kanssa, joiden hoitajien pitäisi tunnistaa. Tämä opinnäytetyö keskittyy siihen, miten hoitajat toteuttavat vanhusten suun hygienian toteutuksen.
Tässä opinnäytetyössä pyritään löytämään fokukseen tuloksia kirjallisuuskatsauksen avulla. Opinnäytetyön tekijät ensimmäisessä vaiheessa hakivat artikkeleita hakusanojen mukaan. Tässä vaiheessa löytyi lukuisia artikkeleita. Toisessa vaiheessa karsittiin artikkelit, jotka eivät suoraan liittyneet opinnäytetyön fokukseen. Tämän jälkeen oli jäljellä kymmenen artikkeleita, jotka luettiin perusteellisesti. Näistä sitten kerättiin tuloksia.
Tuloksissa ilmeni, että hoitajat ovat ylikuormittuneita ja tämän takia eivät välttämättä pysty toteuttamaan vanhusten suun hygienian hoitoa. Vanhusten reaktio hoitoon joissakin tapauksissa on este hoidon toteuttamiseen. Hoitajien lisäkouluttaminen liittyen suun hoitoon osoittautui hyvin olennaiseksi. Opinnäytetyössä suositellaan tutkimuksien suorittamista hoitotyössä, jotta olisi enemmän tietoa saatavilla.
Kokoelmat