Finnish Universities of Applied Sciences on the Verge of a New Era : Value, Viability and Visibility of International Education
---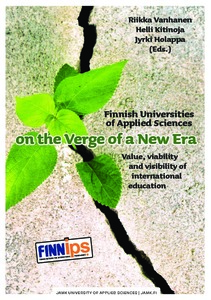 Editoija
Vanhanen, Riikka
Kitinoja, Helli
Holappa, Jyrki
Jyväskylän ammattikorkeakoulu
2017
Julkaisun pysyvä osoite on
http://urn.fi/URN:ISBN:978-951-830-464-0
Lähdeviite:
Vanhanen R., Kitinoja H., Holappa J. (Eds.)., (2017). Finnish Universities of Applied Sciences on the Verge of a New Era : Value, Viability and Visibility of International Education. , In: Jyväskylän ammattikorkeakoulun julkaisuja 236, Jyväskylän ammattikorkeakoulu.
URN:ISBN:978-951-830-464-0
Tiivistelmä
The introduction of tuition fees for non-EU/EEA citizens in Finnish higher education institutions' (HEI) English-taught degree programmes challenges the HEIs to plan new processes and reconsider their service provision. The charging of tuition fees also marks the HEIs' entering into global education markets with a new way, creating a need to review their competitive position and international visibility. How to ensure the smooth implementation of international student marketing and recruitment and enhance the attractiveness of Finnish higher education? The third publication of the Finnish Network for International Programmes (FINNIPS) delves into these topics with a focus on universities of applied sciences' (UAS) undertakings on the verge of a new situation. The articles provide descriptions of the expectations regarding the effects of tuition fees on UASs' international education as well as serve as examples of the concrete measures taken by the Finnish HEIs in preparing for the changing policy. The articles, written by representatives of Finnish HEIs and their various interest groups both in Finland and internationally, offer versatile views regarding the current state, future aims and further development needs of international education in Finland. The reflections generate ideas for identifying the selling points of Finnish higher education and stress the importance of national cooperation in the pursuit of effective communication of the competitive factors.
Kokoelmat