Kommunikation i ledarskap : En undersökning om kommunikationen mellan chefer och medarbetare på ett hospitalityföretag med olika enheter
Åkerström, Rebecca (2016)
---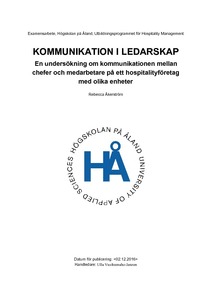 Högskolan på Åland
2016
All rights reserved
Julkaisun pysyvä osoite on
http://urn.fi/URN:NBN:fi:amk-2017111116901
Tiivistelmä
Detta examensarbete är en kvalitativ och kvantitativ studie med syfte att undersöka hur kommunikationen mellan chefer och medarbetare fungerar på en mindre hotellkedja. Bisyftet är att ta reda på hur medarbetarnas motivation och effektivitet påverkas av chefens sätt att kommunicera.
Undersökningen baserar sig på kvalitativa djupintervjuer med avdelningschefer, samt en kvantitativ undersökning med medarbetarna till avdelningscheferna. Intervjuerna är gjorda med fyra avdelningschefer på samma hospitality företag.
Teorierna i arbetet baserar sig på teorier inom kommunikativt ledarskap, motivationsteorier och teorier för hur högpresterande team arbetar. Den forskningsfråga som undersökningen utgår ifrån är: Kan goda kommunikativa verktyg stärka relationen mellan chef och medarbetare så att medarbetarna känner sig mer motiverade och jobbar mer effektivt?
Av resultatet framkommer det att avdelningscheferna anser sig vara förhållandevis bra i sin kommunikation till medarbetarna. Det visar sig dock att det finns en del kommunikationsområden som går att förbättra ytterligare.
Enkätundersökningen gav, som förväntat olika svar, men utgående från de svar medarbetarna givit kan man konstatera att medarbetarna i stort sätt upplever kommunikationen till chefen som bra och att den bidrar till att de känner sig mer motiverade och jobbar mer effektivt.
Den här undersökningen har inte kunnat mäta effektiviteten hos medarbetarna enligt vetenskapliga metod, utan kan bara förlita sig på de svar som avdelningscheferna och medarbetarna har givit.
This is a qualitative and quantitative study with the aim to examine how communication between managers and co workers functions in smaller hotel chain. The objective with this study has been to find out how the co workers motivation and efficiency is affected by the managers way to communicate.
This study is based on qualitative interviews with department manager, as well as a quantitative survey with the co workers. The interviews are made with 4 department managers at the same hospitality company.
The theoretical part of this study is based on theories about leadership communication, motivation theories and
theories about high performing teams. The research question in this study is: Can good communication strengthen the relationship between manager and co worker, so that the co workers experience more motivation
and work more efficiently.
The result from this study displays that the department managers consider themselves to be relatively good in
their communication with co workers. But the study also shows that the managers have development potential
in certain communication areas.
The survey gave, as expected, different results. However it can be concluded, based on the answers that the co workers gave, that the co-workers think the communication with the manager is good. The result also shows that the co worker think communication makes them more motivated and more
efficient in their work.
This study has not been able to measure the efficiency with scientific methods, but can only rely on the answers yield from the managers and co workers.
Kokoelmat