Nutritional Preferability among Finnish and Indian Children within the context of the FINDIgATE Project
Talmadge, Amanda (2017)
---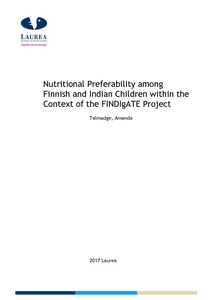 Laurea-ammattikorkeakoulu
2017
All rights reserved
Julkaisun pysyvä osoite on
http://urn.fi/URN:NBN:fi:amk-2017112317891
Tiivistelmä
This study assesses nutrition knowledge and preference of 4 to 6-year-old Finnish and Indian pre-school students. The study was conducted within the context of the FINDIgATE project, which focuses on the wellbeing of children in India and Finland and is intended to contribute to the overall improvement of wellbeing in children. The governments of Finland and India have committed to improving child wellbeing and have mandated compulsory school and free lunch. These initiatives are a positive step, yet there remain significant health concerns such as anemia, obesity and a rise in nutrition-related noncommunicable disease among school-aged children.
Previous research indicates that nutrition knowledge in adults results in increased overall health and decreases in noncommunicable diseases. Risk factors for noncommunicable diseases such as diabetes, obesity and cardiovascular disease are occurring earlier in childhood and prevention strategies should occur at the same time. Earlier interventions and education may change the nutritional habits and could result in positive health outcomes for life. The aim of this study was to assess nutrition knowledge and preference of 4 to 6-year-old Finnish and Indian preschool students. The objectives were to compare nutrition-related health knowledge and nutrition-related preferences of preschool children according to nationality, gender, BMI, and age.
Forty-three informants, 23 in India and 20 in Finland, completed two, 15-item pictorial questionnaires. All participants were between the ages of four years and six years and eleven months. The questionnaire responses were used to determine knowledge and preference toward nutritional food. Due to the participants' developmental stage a facial analog, Likert-type scale was used for the responses. A pilot revealed that a 3-point Likert-type scale was more appropriate than a 5-point Likert-type scale for this age group.
The results were operationalized to reveal nutritional knowledge and preference for nutritional food. This study does not support a link between pre-operational children's nutrition knowledge and the preferences they have towards food. Although high levels of nutrition knowledge were shown there was no indication that this knowledge impacted preferences. The differences be-tween the groups - nationality, gender, BMI and age - were also very small. The only two statistically significant differences were unpreferability between the nationalities (p=0.000) and ignorance, also between nationalities (p=0.032).
As a health promotion and prevention strategy, the results can be used to support the argument for evidence-based interventions to overcome nutrition knowledge barriers in pre-operational children and to continue to provide nutritious options to preschool children. The results support the assistance with food choices, regardless of knowledge of this age group. This study offers strong sup-port for continued subsidized school meals and education for guardians and children related to nutrition from very early in life.
Kokoelmat