Employer branding inom hotellindustrin
Koutila, Katariina (2017)
---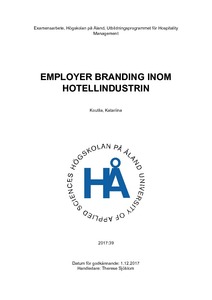 Högskolan på Åland
2017
All rights reserved
Julkaisun pysyvä osoite on
http://urn.fi/URN:NBN:fi:amk-2017120720091
Tiivistelmä
Mitt examensarbete är en litteraturstudie om employer branding inom hotellindustrin. Syftet med mitt arbete är att ta reda på hur en hotellchef kan locka, hitta och behålla sina drömanställda, som kan leverera hotellets tjänster åt gäster på det sättet som motsvarar hotellets helhetsbild och kvalitet, samt ger större profit till företaget.
Jag undersöker delar i hotellorganisationen som kan hjälpa chefer att locka just rätt personer och talangpool. Jag utgå från tankesättet att personalfrågor löses inte bara med pengar.
Jag har använt så nytt material som möjligt, för att ge en bild till läsaren hur employer branding fungerar inom hotellbranschen i dagsläget. Jag har avgränsat mig från idén hurdan är en bra arbetare, för att employer branding kan modifieras till alla olika idéer om drömmanställda.
Det finns flera fördelar med employer branding, men på toppen av alla dessa fördelar ligger fördelarna med att underlätta rekrytering och urval. Hotellets image, varumärke och allmänna rykte påverkar organisationens möjligheter att rekrytera ny personal.
My thesis is a literature study about employer branding in the hotel industry. The purpose of my work is to find out how a hotel manager can attract, find and keep his/her dream employees, who can deliver hotel's service to the customers in the way that is in line with the hotels image and quality and can give a bigger profit to the hotel.
I have studied the parts of the hotel organization which can help the manager to attract just the right persons and talent pool. I want to assume that staff questions are not solved only by money.
I have used as new material as possible to give the reader a picture of how employer branding works in the hotel industry today. I have not taken up what kind of employee is a good employee, because employer branding can be modified to every different kind of ideas of dream candidate.
There are many advantages with employer branding, but maybe the most important are the advantages with recruiting and selection. The hotel's image, brand and reputation affects the hotel's possibilities to hire new staff.
Kokoelmat